Carbon nanotubes and graphene towards soft electronics
Received: 16 January 2014
Accepted: 4 March 2014
Published: 25 April 2014
Abstract
Although silicon technology has been the main driving force for miniaturizing device dimensions to improve cost and performance, the current application of Si to soft electronics (flexible and stretchable electronics) is limited due to material rigidity. As a result, various prospective materials have been proposed to overcome the rigidity of conventional Si technology. In particular, nano-carbon materials such as carbon nanotubes (CNTs) and graphene are promising due to outstanding elastic properties as well as an excellent combination of electronic, optoelectronic, and thermal properties compared to conventional rigid silicon. The uniqueness of these nano-carbon materials has opened new possibilities for soft electronics, which is another technological trend in the market. This review covers the recent progress of soft electronics research based on CNTs and graphene. We discuss the strategies for soft electronics with nano-carbon materials and their preparation methods (growth and transfer techniques) to devices as well as the electrical characteristics of transparent conducting films (transparency and sheet resistance) and device performances in field effect transistor (FET) (structure, carrier type, on/off ratio, and mobility). In addition to discussing state of the art performance metrics, we also attempt to clarify trade-off issues and methods to control the trade-off on/off versus mobility). We further demonstrate accomplishments of the CNT network in flexible integrated circuits on plastic substrates that have attractive characteristics. A future research direction is also proposed to overcome current technological obstacles necessary to realize commercially feasible soft electronics.
Keywords
Carbon nanotubeGrapheneNano-carbonSoft electronicsFlexibleStretchableTransparent conducting filmThin film transistor
1 Introduction
Since the invention of the transistor, the semiconductor industry has affected nearly every aspect of our daily life [1, 2]. One main stream technological trend of the silicon industry is scaling down the device sizes. For instance, the gate length has been reduced down to ~20 nm under current optical lithography technique, and the count of transistors in a commercially available CPU numbers more than 5 billion [3]. In spite of the tremendous progress of miniaturized silicon technology, further development to soft electronics is still limited by the rigidity of the materials themselves. Electronic devices on flexible and stretchable substrates, defined as soft electronics, are contrasted to traditional rigid chips using conventional silicon and metals. The strategies for developing soft electronics are driven by the investigation of new materials which are bendable, twistable, flexible and stretchable. Toward the basic requirement of replacing traditional rigid silicon electronics by new materials, structure engineering, such as structures in "wavy" layouts and the open mesh geometry have also been investigated to achieve stretchability [4–6].
Figure
1
shows the development of materials for achieving soft electronics from traditional rigid chips. Amorphous silicon (a-Si), low temperature polycrystalline silicon (p-Si), semiconducting metal oxides, nanowires, and organic semiconductors are promising candidates for flexible electronics from a materials perspective, but several challenges must be overcome prior to their practical use. a-Si is low-cost and is applicable for large-area displays, but suffers from poor mobility and flexibility [
7
]. Low temperature p-Si has the advantage of relatively high mobility but has low uniformity and processability [
8
]. Metal oxides are costly due to the shortage of rare earth elements and display poor environmental stability. Polymers have substantial bendability, but have poor mobility and chemical stability.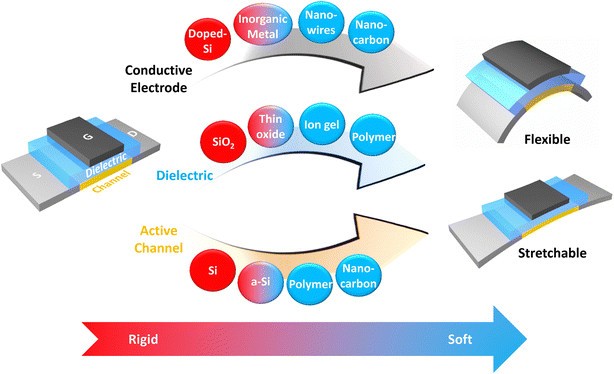 Nano-carbons such as one-dimensional carbon nanotubes (CNTs) and two-dimensional graphene layers have been widely studied to open a new technology platform based on flexible electronics requiring high transmittance, bendability, and high mobility [
9
–
12
]. Figure
2
shows various types of carbon-based materials - fullerene, CNT, graphene, graphite, graphene oxide (GO), and diamond.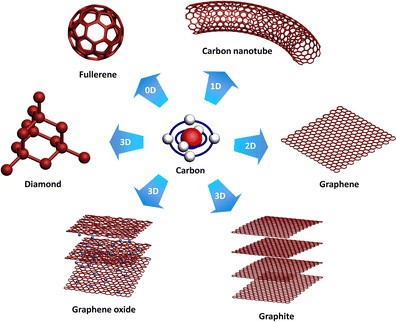 The extraordinary electrical, physical, and chemical properties of CNTs and graphene have been attractive since their discoveries. Both materials exhibit outstanding carrier mobility, which is attractive for applications to electronic devices. The carrier mobility in semiconducting single-walled carbon nanotubes (SWCNTs) has been shown to be as high as ~80,000 cm2 V−1 s−1[13], while the mobility of exfoliated graphene ranges from ~100,000 cm2 V−1 s−1[14] on insulating substrates to 230,000 cm2 V−1 s−1 in suspended structures [15]. These ultra-high mobility values suggest that these materials have the potential to outperform established materials for next-generation high-speed electronics. The electric current capacity for both CNTs and graphene are reported above 109 A cm−2[16, 17]. At room temperature, CNTs exhibit a thermal conductivity up to 3,500 W m−1 K−1[18], and graphene has a value of 5,300 W m−1 K−1[19] with a high transmittance of nearly 97% [20]. In addition to high flexibility and stretchability, both materials also have superb mechanical strength (Young's modulus of 1.0 TPa and tensile strength of 130 GPa) [21]. For these reasons, CNTs and graphene are regarded as the most promising materials to realize next-generation electronics.
The purpose of this article is to summarize the recent progresses of both CNTs and graphene in soft electronics, and furthermore, to provide guidance for future nano-carbon research by clarifying feasible approaches which will most likely lead to soft applications. We first discuss several successful attempts to synthesize CNTs and graphene. Variations in transfer techniques for both materials are discussed thoroughly. For the use of CNTs and graphene for transparent conducting films (TCFs), the characteristics of TCFs using both nano-carbon materials are compared in depth, together with ITO. Furthermore, various types of field-effect devices using different forms of CNT FETs such as single CNT FET, random network CNT FET, aligned CNT FET, and different forms of graphene FETs such as single layer graphene (SLG), bilayer graphene (BLG), and graphene nanoribbon (GNR) are compared. Moreover, the specific FET device performances related to material preparation and fabrication techniques are also discussed. Finally, the logic level, flexibility, and stretchability of devices with a combination of graphene and CNTs along with their utilizations in logic circuits are further discussed. The systematic deep analyses of the device properties of graphene and CNTs highlight excellent opportunities for future flexible electronics. We conclude with a brief perspective on the research directions of soft electronics in future.
3 Conclusions
3.1 Summary and prospects
We have reviewed the current status of CNTs and graphene in diverse applications of soft electronics from material preparation to performance in logic circuits. Low-dimensional carbon materials exhibit superb electronic properties and promising performance and are attractive for future electronics. Methods for synthesizing one-dimensional CNT and two-dimensional graphene films, as well as procedures for device fabrication on soft substrates have been discussed here. Both CNTs and graphene exemplify TCF properties including a high operational flexibility and stretchability that are not accessible with transparent ITO electrodes. Likewise, field effect mobilities of carbon-based transistors have reached levels unfeasible by organic semiconductors/a-Si. CNT FETs, whether composed of a single CNT, aligned CNTs, or random network CNTs, show high on/off ratio and mobility. Graphene FETs provide extremely high mobility but poor on/off ratio due to zero band gap. Engineering for on/off ratio increase and carrier polarity control were summarized. For applications in active electronics, SWCNT and graphene transistors can be assembled on a variety of substrates including flexible plastic and stretchable elastomers. Various complex integrated circuits based on nano-carbon materials have been demonstrated in the literature, as well. Each of these topics requires significant future exploration in order to realize commercialized applications of the immense potential of nano-carbon in next-generation electronics.
In spite of recent progress demonstrating the unique advantages of CNTs and graphene, the possible applications, social influence, addressable markets, and related economic issues will eventually decide the success of these nano-carbon materials. Both have unique and superb properties which open the possibility for soft electronics. Nevertheless, applications are limited by a different set of factors. Assemblies of CNTs are practical compared to the use of individual CNTs, but require the positioning of the CNTs in a specific direction, with desired density, and of desired metallicity/chirality. Methods to achieve this control are a current hot topic, but adoption of a particular method will require a high yield for industrial utilization even in niche applications. Conversely, graphene can be prepared in a large-area format. Yet, the transfer to a desired substrate may provoke damage in the graphene layer and degrade device performance. Therefore, developing a smart way of assembling CNTs to maximize the device performance and robust method of transfer of large-area graphene are two key ingredients that are unsolved but required for application. On a systems level, future electronics including biomedical applications with biocompatibility will require further research. For instance, CNTs and graphene combine synergistically, showing better flexibility and stretchability with no degradation of electrical performance when engineered to maximize potential. Additionally, combining both stretchable materials and stretchable geometries can allow for extremely stretchable systems. Aside from the engineering challenges of applying nano-carbon to soft electronics, CNTs and graphene are outstanding materials for demonstrating a number of basic science concepts in the fields of quantum electrodynamics, quantum optics, and quantum chemistry. Controlled synthesis and application of monolayer materials also allows exploration into a new class of vertical tunneling devices. Aside from carbon, other classes of graphene-like 2D materials such as transition-metal dichalcogenide (TMD) materials and boron nitride (BN), might also be promising in the field of soft electronics when a band gap or other electrical/mechanical properties are required. These related engineering opportunities in areas with the broad range of influential research topics provides strong motivation for continued efforts in human-friendly soft electronics.
Authors' information
Sang Hoon Chae: Sang Hoon Chae is a researcher of the Center for Integrated Nanostructure Physics (CINAP), Institute of Basic Science (IBS) in Korea. He is a Ph.D. candidate within the Department of Energy Science at Sungkyunkwan University. He received his B.Sc. in the Department of Semiconductor Systems Engineering from Sungkyunkwan University, Korea, in 2010. His research interests include flexible and stretchable electronics using carbon nanotubes, graphene, and other 2D materials.
Young Hee Lee: Young Hee Lee is a Director of the Center for Integrated Nanostructure Physics (CINAP), Institute of Basic Science (IBS) in Korea. He is a professor in the Department of Energy Science and Physics at Sungkyunkwan University, Korea. He received his B.Sc. in physics from Chonbuk National University, Korea and his Ph.D. in physics from Kent State University, USA. His research focus include fundamental studies of nanomaterials and their applications to electronic and optical devices, energy harvesting, and nanobiomedical areas: transparent, flexible, and stretchable transistors, supercapacitors, nanobatteries, hydrogen storage, neuroscience, and cancer therapy using noncontact electrical stimulators.
Declarations
Acknowledgements
This work was supported by the Institute for Basic Science (IBS) and in part by BK-Plus through Ministry of Education, Korea. We thank David Perello (CINAP) and Alex Patterson (MIT) for valuable discussions during the preparation of this manuscript.
Authors' Affiliations
(1)
Center for Integrated Nanostructure Physics (CINAP), Institute for Basic Science (IBS), Suwon, Republic of Korea
(2)
Department of Energy Science, Department of Physics, Sungkyunkwan University (SKKU), Suwon, Republic of Korea
Copyright
© Chae and Lee; licensee Springer 2014
This article is published under license to BioMed Central Ltd. This is an open access article distributed under the terms of the Creative Commons Attribution License (http://creativecommons.org/licenses/by/2.0), which permits unrestricted use, distribution, and reproduction in any medium, provided the original work is properly cited.