Deformable devices with integrated functional nanomaterials for wearable electronics
Received: 6 August 2015
Accepted: 4 November 2015
Published: 15 March 2016
Abstract
As the market and related industry for wearable electronics dramatically expands, there are continuous and strong demands for flexible and stretchable devices to be seamlessly integrated with soft and curvilinear human skin or clothes. However, the mechanical mismatch between the rigid conventional electronics and the soft human body causes many problems. Therefore, various prospective nanomaterials that possess a much lower flexural rigidity than their bulk counterparts have rapidly established themselves as promising electronic materials replacing rigid silicon and/or compound semiconductors in next-generation wearable devices. Many hybrid structures of multiple nanomaterials have been also developed to pursue both high performance and multifunctionality. Here, we provide an overview of state-of-the-art wearable devices based on one- or two-dimensional nanomaterials (e.g., carbon nanotubes, graphene, single-crystal silicon and oxide nanomembranes, organic nanomaterials and their hybrids) in combination with zero-dimensional functional nanomaterials (e.g., metal/oxide nanoparticles and quantum dots). Starting from an introduction of materials strategies, we describe device designs and the roles of individual ones in integrated systems. Detailed application examples of wearable sensors/actuators, memories, energy devices, and displays are also presented.
Keywords
Silicon nanomembraneFunctional nanomaterialsFlexible electronicsStretchable electronicsWearable electronics
1 Introduction
In the rapid technology development of low-power silicon electronics, light-emitting diodes (LEDs) fabricated on unconventionally shaped substrates, high-capacity lithium-ion batteries, and various wearable electronic devices such as smart glasses, watches, and lenses have been unveiled both in academic journals and on the market. In spite of their superb performance, wearable form factors, and compact sizes, challenges remain mainly owing to their large thickness and mechanical rigidity, which result in a mechanical mismatch between the device and the skin, and thereby discomfort, a low signal-to-noise ratio, and measurement errors [1]. In this regard, achieving mechanical deformability of the wearable electronic/optoelectronic devices while maintaining high performances has been a major research goal [2–6].
One promising strategy is to replace the rigid electronic materials (e.g., silicon wafer) with flexible nanomaterials (e.g., silicon nanomembrane (SiNM) [7–11], carbon nanotubes (CNTs) [12–14], graphene (GP) [1, 15, 16], and organic nanomaterials [17, 18]). The electronic properties of the SiNM (down to tens of nanometers) remain the same as the bulk silicon wafer [19], but its bendability dramatically increases owing to the reduced thickness [5]. SiNM-based devices outperform their competitors including low-temperature polycrystalline silicon (LTPS) and organic devices by virtue of their high electron mobility [20]. However, SiNM based device might have issues in the high cost and complicated fabrication processes. Meanwhile, carbon nanomaterials (e.g., CNTs and GP) [21, 22] have been getting attentions as next-generation semiconducting nanomaterials. The mobility of single-walled CNTs (SWNTs) and exfoliated GP have been reported up to 100,000 [21] and 230,000 cm2 V−1 s−1 [22], respectively, which are higher than that of single-crystal silicon. Their ultrathin thickness enables them to be seamlessly integrated in wearable devices while achieving the transparency [23–25]. The mass production, device performance, and fabrication processes of these carbon nanomaterials, however, have many remaining challenges for commercial device applications [26]. Organic nanomaterials such as organic nanowires/nanofibers also have recently utilized as electric materials for fabricating complementary metal–oxide–semiconductor (CMOS) circuits [27] and wearable power generators [28, 29]. Intrinsic deformability of organic nanomaterials, solution processability, and low cost make them promising for wearable devices [27]. However, their low electrical performances should be resolved for its widespread applications [17].
Another approach to achieve both high performance and multifunctionality is to utilize hybrids of nanomaterials [
30
–
36
]. Functional hybrid nanomaterials often exhibit substantially different physical, mechanical, magnetic, chemical, and optical properties compared to their individual and/or bulk counterparts [
37
–
40
]. By integrating different functional nanomaterials, the performance of wearable devices can be dramatically improved and/or diversified [
1
,
7
,
41
–
46
]. For the realization of this goal, the type, size, thickness, and concentration of the nanomaterials should be carefully designed [
46
]. In the following, we summarize recently reported wearable sensors/actuators [
7
,
13
,
47
], memories [
41
,
48
], energy storage devices [
49
], and displays [
50
,
51
] that exploit various nanomaterials [
7
,
44
,
46
,
52
,
53
] and their hybrids (Fig.
1
). We also describe the roles of each nanomaterial in specific devices, improved device functions, their system integrations, and provide brief perspectives on future research directions.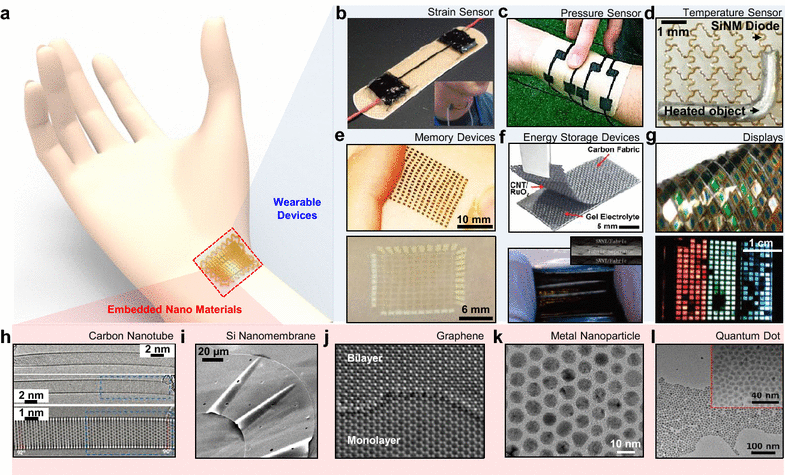 3 Conclusions
The mechanical, electrical, and optical properties of bulk materials change as their size is reduced and/or nanoscale structure engineering is introduced. By using the unique properties of such nanomaterials or their hybrids, many breakthroughs in wearable devices have been accomplished. In this paper, we reviewed the current status of wearable devices including sensors/actuators, memory devices, displays, and energy storage devices. We particularly focused on the use of functional nanomaterials to enhancing the deformability and performance of these devices. Continuous research and development of new nanomaterials/hybrids and their integration into variety of electronic/optoelectronic devices would provide new opportunities for next-generation wearable electronics.
Declarations
Authors' contributions
JK and JL contributed equally. JK, JL, and D-HK wrote the manuscript. JK, JL, DS, MKC and D-HK designed the figures. All authors read and approved the final manuscript.
Acknowledgements
This research was supported by IBS-R006-D1. This work was supported by a Seoul National University Research Grant.
Competing interests
The authors declare that they have no competing interests.
Open AccessThis article is distributed under the terms of the Creative Commons Attribution 4.0 International License (http://creativecommons.org/licenses/by/4.0/), which permits unrestricted use, distribution, and reproduction in any medium, provided you give appropriate credit to the original author(s) and the source, provide a link to the Creative Commons license, and indicate if changes were made.
Authors' Affiliations
(1)
Center for Nanoparticle Research, Institute for Basic Science (IBS), Seoul, Republic of Korea
(2)
School of Chemical and Biological Engineering, Institute of Chemical Processes, Seoul National University, Seoul, Republic of Korea