Rational engineering of physicochemical properties of nanomaterials for biomedical applications with nanotoxicological perspectives
Received: 20 April 2015
Accepted: 23 July 2015
Published: 1 February 2016
Abstract
Innovative engineered nanomaterials are at the leading edge of rapidly emerging fields of nanobiotechnology and nanomedicine. Meticulous synthesis, unique physicochemical properties, manifestation of chemical or biological moieties on the surface of materials make engineered nanostructures suitable for a variety of biomedical applications. Besides, tailored nanomaterials exhibit entirely novel therapeutic applications with better functionality, sensitivity, efficiency and specificity due to their customized unique physicochemical and surface properties. Additionally, such designer made nanomaterials has potential to generate series of interactions with various biological entities including DNA, proteins, membranes, cells and organelles at nano-bio interface. These nano-bio interactions are driven by colloidal forces and predominantly depend on the dynamic physicochemical and surface properties of nanomaterials. Nevertheless, recent development and atomic scale tailoring of various physical, chemical and surface properties of nanomaterials is promising to dictate their interaction in anticipated manner with biological entities for biomedical applications. As a result, rationally designed nanomaterials are in extensive demand for bio-molecular detection and diagnostics, therapeutics, drug and gene delivery, fluorescent labelling, tissue engineering, biochemical sensing and other pharmaceuticals applications. However, toxicity and risk associated with engineered nanomaterials is rather unclear or not well understood; which is gaining considerable attention and the field of nanotoxicology is evolving promptly. Therefore, this review explores current knowledge of articulate engineering of nanomaterials for biomedical applications with special attention on potential toxicological perspectives.
Keywords
Rational designNanomaterialsNanomedicinePhysicochemicalNanotoxicology
1 Introduction
Nanostructures are engineered assemblies of materials with at least one dimension equivalent to 100 nm or less as defined by the National Nanotechnology Initiative (NNI). These nano scale materials are significantly important and increasingly being employed for commercial purposes in various sectors, wherein some of the advanced nanomaterials are at the leading edge of nascent fields of nanobiotechnology and nanomedicine [
1
–
6
]. Material at nano scale range exhibit unique physicochemical properties, which are accredited to their ultra-small size, high surface to volume ratio, composition, presence of biochemical moieties on surface (peripheral coatings or functional groups), hydrophilic or hydrophobic nature, physical appearance (shape or morphology) and aggregation [
7
] as illustrated in Fig.
1
.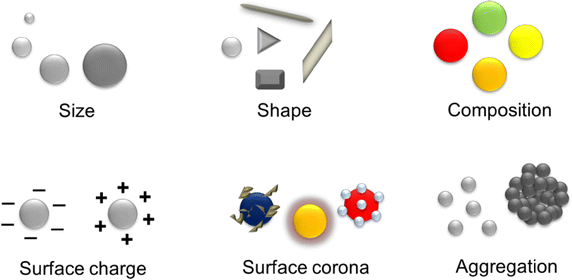 Due to the above stated unusual physicochemical belongings, nanomaterials differ considerably from the bulk material of the alike composition, permitting them to execute remarkable feats of better functionality, sensitivity, efficiency and specificity in terms of their therapeutic or biomedical applications [1, 8, 9]. Furthermore, contemporary progress in the field of nanotechnology has given ability to rationally design a variety of nanomaterials and manipulate their chemical, physical and potential biological properties for drug screening (labelling), gene delivery (transfection), diagnosis/monitoring (devices and labelling), drug delivery (therapy), detection (imaging), tissue engineering and other biomedical applications. It is apparent that the nanomedicine is equivalent to traditional medicine but with better prospects to diagnose precisely and promptly, to cure diseases efficiently without or minimal side effects. For example, by manipulating therapeutic agents and other materials at the nanoscale level, their essential properties and bioactivity can be transformed. Such transformed characteristics can permit control over therapeutic agents/drugs in terms of their solubility, blood pool retention times, controlled release over short or long durations, environmentally triggered controlled release or definite site-targeted delivery [1, 4, 5, 8, 10–22].
In the context of nanomedicine, a variety of materials have been utilized for their potential medical applications, wherein metallic nanoparticles have been proven the most convenient and suitable due to their unique optical, physical and electrical properties. These materials have found noteworthy applications in imaging, sensing, drug delivery and gene targeting. Numerous studies related to metallic particles such as gold and silver nanoparticles have been discussed in different sections of this review in terms of their application and toxicity [18, 23–31]. In addition to metallic nanoparticles, carbon based materials such as fullerenes, nanotubes, nanodiamonds and graphene are important nanomaterials for biomedical applications. Fullerenes, graphene and their derivatives have shown good biocompatibility which makes them attractive candidate for biomedical applications especially for bio-sensing, -imaging and drug delivery. Fullerenes have been regarded as a double-edged sword; because they display therapeutic applicability at lower concentrations; however, at the higher concentrations they induce inflammation and if chronic, may promote cancer. Likewise, contemporary research has indicated that graphene and its derivatives may cause cytotoxicity in experimental in vitro and in vivo conditions along with genotoxicity and innovative methodologies need to be employed to evaluate their toxicities [32]. Another carbon based material diamond nanoparticles have shown their importance as single-particle biomarker for fluorescence imaging. Moreover, surface of these nanoparticles can be effectively functionalized to bind with a variety of proteins and nucleic acids, empowering them to be employed as a carrier for pharmaceutical agents or oligonucleotides [21, 33–37].
Quantum dots (QDs) have also emerged as a novel class of fluorescent probe for in vivo biomolecular and cellular imaging due to their size-tuneable light emission, improved signal brightness, resistance toward photo-bleaching and simultaneous excitation of multiple fluorescence colours. Moreover, current research has led fabrication of multifunctional nano-probes that are highly bright and stable under different in vivo conditions. Additionally, polymer-encapsulated QDs have been prepared by encapsulating luminescent QDs with amphiphilic block copolymers and linking the polymer coating to tumor-targeting ligands and drug delivery functionalities. Interestingly, these materials have been found to be nontoxic to the cells and such conjugated QDs have raised new possibilities for ultrasensitive and multiplexed imaging of molecular targets in living cells, animal models and possibly in humans; however, their long-term in vivo toxicity and degradation need to be more carefully evaluated [
38
]. In addition to above discussion, polymeric nanomaterials have also attracted significant interest, which are colloidal structures and composed of synthetic or semisynthetic polymers. These materials have extensive potential for biomedical applications and predominantly being used for drug or gene delivery purposes due to their less toxic properties. The drug moieties can be entrapped, encapsulated or attached to a polymeric matrix for biological applications. [
39
,
40
]. In this context, our group has demonstrated construction of soft nanostructures of biocompatible tri-block copolymer P-123 (PEO
20
–PPO
69
–PEO
20
) [poly(ethylene oxide)–poly(propylene oxide)–poly(ethylene oxide)] for their utility as a non-viral DNA delivery vector in cellular environment using
Escherichia coli
DH5α as a model microorganism. In this research, optimum weight ratio of 1:10 of plasmid DNA to copolymer P-123 was screened to achieve higher transformation efficiency. The schematic mechanism by which pDNA and copolymer P-123 nano-constructs release pDNA into the bacterium has been illustrated in Fig.
2
, wherein PEO the hydrophilic part of polymer complex adsorbed on the cell wall and PPO the hydrophobic part can insert into the cell and efficiently deliver pDNA [
41
]. Another important material at nanoscale level is liposome, that contains a lipid bilayer membrane surrounded by an aqueous interior mimicking the biologic membranes for improving the efficacy and safe delivery of anti-cancer, anti-fungal, antibiotic drugs, anesthetics and anti-inflammatory drugs along with the delivery of gene medicines [
42
].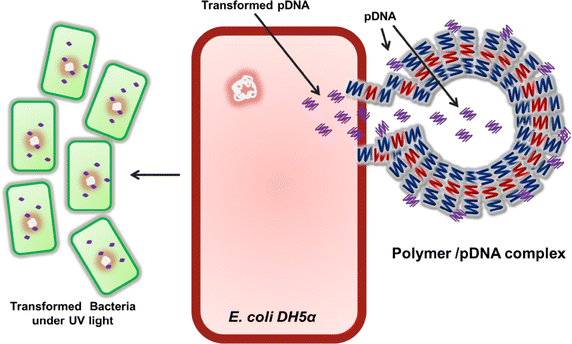 Despite of numerous potential biomedical applications, toxicological perspective of engineered nanomaterials is poorly understood or rather unclear, which is gaining considerable attention in terms of nanotoxicology. Although, nanotoxicology is in embryonic stage of its development; it is a vital part of nanomedicine and discusses interactions of engineered nanomaterials with biological systems or environment; wherein, particular emphasis is given on the correlations between the physicochemical and surface properties of nanomaterials with induction of toxic or adversarial biological responses. In addition to this, nanotoxicology aims to discover favourable physicochemical characteristics of various nanomaterials, which may render them more responsive toward inner biological environment for therapeutic benefits [43, 44]. Therefore, the response of active biomolecule with living entity should be more closely related to the quantity of active molecule coming into the direct contact with biological object rather it's transient initial distribution or administered mass concentration. In a typical nanotoxicity study, engineered nanomaterials are introduced in specialized media for biological application and dose is described as the total particle mass/number, surface area or volume of the particles per unit volume of liquid media or per unit surface area of the well (sedimentation surface). However, in recent past more consideration has been given to the mass transport (sedimentation/diffusion) of particles in suspension, which proceeds at a rate governed by the mass transport properties (sedimentation/diffusion-coefficients) of the formed agglomerates in suspension [45–47]. Therefore, the requirement for precise in vitro dosimetry remains foremost hindrance to the further development of cost-effective toxicological screening methods for engineered nanomaterials to realize their full potential for biomedical applications [48]. Therefore, a careful selection of in vitro doses for nanoparticles toxicity testing is imperative, which largely depend upon the effective density and diameter of formed agglomerates in suspension [49]. From the above discussion, it appears that there is contradiction between nanomedicine and nanotoxicology in terms of application and safety. Therefore, this review aims to explore current knowledge of engineering various physicochemical characteristics of materials at nano scale level for biomedical applications with potential toxicological perspective.
In the context of biomedical applications of nanomaterials, it is vital to recognize that the concomitance of nanomaterials and biological entity may exert detrimental effects on biological systems [50, 51]. These adverse effects are created due to nano-bio interfacial interactions, which are driven by a series of communications between nanomaterial and natural boundaries of biological entities such as DNA, proteins, membranes, cells and organelles. Such interactions are motivated by colloidal forces and depend on vibrant bio-physico-chemical properties of nano-bio boundary leading to form protein corona, particle wrapping, intracellular uptake and bio-catalytic progressions that may be bio-compatible or -adverse in nature [7, 23, 52].
In terms of nanomaterials toxicity, three principles have been elucidated which are referred as transport principle, surface principle and materials principle. All these fundamental principles of materials toxicity need to be considered pragmatically for dictating specific interactions between nano objects and biological systems. Moreover, these three basic principles provide insight of each nanomaterial separately for their specific physicochemical property, which are imperative in creating adversarial biological effects [51].
Therefore, to contrive nanomaterials for biomedical applications, it is imperative to rationally engineer nanomaterials with controlled physicochemical properties to dictate nano-bio interface toward desired interactions to achieve highest level of safety with better functionality, sensitivity, efficiency and specificity. Moreover, basic understanding of nano-bio interfacial interactions between engineered nanomaterials and biological objects will allow predictive relationships at the nano-bio interface. Such predictive interactions are essential for the perspective of further development of designing strategies and safe usage of nanomaterials [53–55]. From the discussion, it can be established that prior to utilizing nanomaterials in the field of medicine or biology, the effects of nanomaterials must be anticipatable and defined, and nanomaterials must exhibit desired therapeutic outcomes without or negligible cytotoxicity.
In this perspective, a variety of nanomaterials have been rationally designed including engineered metallic nanoparticles, their alloys and oxides, super-paramagnetic oxide crystals, quantum dots, semiconductors, dendrimers, polymeric micelles, liposomes, aquasomes (carbohydrate-ceramic nanoparticles) and polyplexes/lipopolyplexes for their vast potential towards biomedicine application from diagnostics to treatment of disease [1, 25, 26, 56–60]. Moreover, it is imperative to state that the dimensional resemblance of designer made nanomaterials and biomolecules (enzymes, DNA, membrane, proteins etc.) provides noteworthy potential to tailored nanomaterials to substantial influence biomedical sciences by achieving desired sensitivity with improved bio-functionality, -efficiency and -specificity as discussed earlier [18, 61–63]. Furthermore, contemporary progressions in meticulous synthesis, development in functionalization strategies and tranquil atomic scale tailoring of physicochemical properties of nanomaterials positioning such materials at forefront for several biomedical applications including biomolecular detection/diagnostics, drug/gene delivery, fluorescent labelling, tissue engineering, biochemical sensing etc. In spite of what we have achieved so far, a complete understanding of how cells interact with well-defined nanomaterial at the molecular level remains poorly understood and more insight need to be provided. Furthermore, it is inevitable to systematically investigate and analyse any unwanted toxicity or risks associated with nanomaterials prior to make a final clinical translation. Therefore, the next section will discuss that how various physicochemical properties of nanomaterials can be rationally engineered to influence their biomedical potential to achieve desired biological goal without any toxicological impact.
2 Engineering physicochemical properties at nanoscale for biomedical applications with controlled nanotoxicity
Nanomaterials display exceptional physicochemical properties and can be exploited for various biomedical applications as illustrated in Fig.
3
due to their controlled size, high surface to volume ratio, differential shape, well-ordered composition, meticulous surface coatings or functional groups, solubility, specific hydrophilic or hydrophobic nature and aggregation. All these physicochemical parameters of nanomaterials either individually or cooperatively can affect the initial nano-bio interfacial interactions, adhesion of nanomaterials on cell membrane/surface, their cellular uptake or direct penetration inside the cells, and lastly nanomaterials communication with the cellular components; which ultimately translate into the bio-compatibility or -toxicity of these nanomaterials towards a specific biological entity leading to therapeutic or adversative effects [
7
,
52
].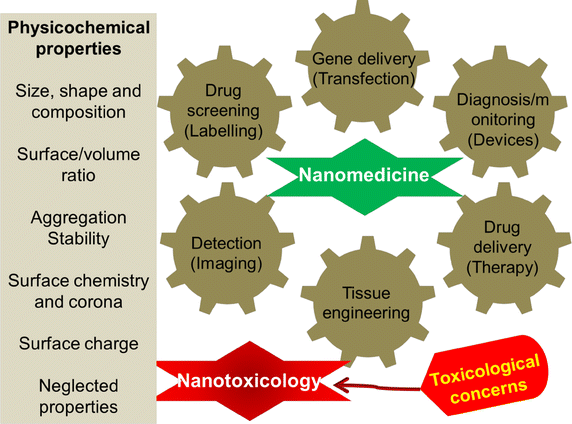 Moreover, different physicochemical belongings of nanomaterials have possibility to produce specific chemical atmosphere within the cells to encourage a pro-oxidant environment, initiating an imbalanced cellular energy system reliant on redox potential, thus leading to hostile biological consequences. Such hostile biological effects may range from the commencement of inflammatory pathways through to ultimate cell death [64]. Therefore, it is imperative to develop deeper insight into the physicochemical properties of nanomaterials and their biological aspects after nano-bio interactions to formulate better nanomaterials for future biomedical or pharmaceutical applications through nanomedicine. Likewise, the intrinsic physicochemical and surface properties of nanomaterials need to be carefully designed to accomplish specific biomedical applications as represented in Fig. 3 without any toxicological influence. The succeeding section discusses about various physicochemical properties of nanomaterials which may influences their potential biomedical/toxicological role, therefore need to be engineered prudently.
3 Conclusion
Nanotechnology has significant potential to influence field of biology and medicine due to nanoscale size of basic biological entities and it is gaining considerable attention in terms of nanomedicine. However, toxicological perspectives of engineered nanomaterials are poorly understood or rather unclear, which is limiting full potential of nanomedicine. Therefore, the often ignored toxicological concerns of engineered nanomaterials need urgent attention and it is essential to carry out fundamental research to address these issues. Moreover, the future of nanomedicine will depend on rational engineering of various nanomaterials with controlled physicochemical properties to dictate their interactions in anticipated manner with biological systems for biomedical applications. Additionally, detailed and thorough understanding of nano-bio interactions will be required to discover favourable physicochemical characteristics of various nanomaterials, which may render them more responsive toward inner biological environment for therapeutic benefits without any toxic impact.
Declarations
Authors' contributions
NPN and HKD have made substantial intellectual contribution in the preparation of the manuscript. Both authors read and approved the final manuscript.
Acknowledgements
HKD gratefully acknowledges Department of Science and Technology (DST), Government of India for ITS Grant (Grant No. SB/ITS-Y/0988/2014-15) and Karnataka State Council for Science and Technology (KSCST) for 38th Series: Year 2014–2015 SPP award (7.1.03/SPP/1018).
Competing interests
The authors declare that they have no competing interests.
Open AccessThis article is distributed under the terms of the Creative Commons Attribution 4.0 International License (http://creativecommons.org/licenses/by/4.0/), which permits unrestricted use, distribution, and reproduction in any medium, provided you give appropriate credit to the original author(s) and the source, provide a link to the Creative Commons license, and indicate if changes were made.
Authors' Affiliations
(1)
Nano-Bio Interfacial Research Laboratory (NBIRL), Department of Biotechnology, Siddaganga Institute of Technology, Tumkur, India
(2)
Amity Institute of Biotechnology, Amity University Rajasthan, Jaipur, India