Fabrication routes for one-dimensional nanostructures via block copolymers
Received: 4 March 2017
Accepted: 17 April 2017
Published: 10 May 2017
Abstract
Nanotechnology is the field which deals with fabrication of materials with dimensions in the nanometer range by manipulating atoms and molecules. Various synthesis routes exist for the one, two and three dimensional nanostructures. Recent advancements in nanotechnology have enabled the usage of block copolymers for the synthesis of such nanostructures. Block copolymers are versatile polymers with unique properties and come in many types and shapes. Their properties are highly dependent on the blocks of the copolymers, thus allowing easy tunability of its properties. This review briefly focusses on the use of block copolymers for synthesizing one-dimensional nanostructures especially nanowires, nanorods, nanoribbons and nanofibers. Template based, lithographic, and solution based approaches are common approaches in the synthesis of nanowires, nanorods, nanoribbons, and nanofibers. Synthesis of metal, metal oxides, metal oxalates, polymer, and graphene one dimensional nanostructures using block copolymers have been discussed as well.
Keywords
Block copolymerNanowireNanorodNanofiberNanotechnology
1 Background
Nanotechnology is a relatively new field which involves control and exploitation of structures with sizes in the nanometer range. Goals in this field include fabrication of materials with properties that are novel and improved and are likely to impact different fields [1]. Nanotechnology can be applied in fields like electronics, environmental science, food safety, biotechnology, medicine, and cosmetic industry [2–7]. Such wide arrayed applications call for the development of nanostructures with well-defined size, form, and crystal structure.
Two main approaches exist for the synthesis of 1, 2 and 3-dimensional nanostructures such as nanowires, nanotubes, and nano-masks. These are top-down and bottom-up approach (Fig.
1
). Top-down approach involves the breaking down of a bulk molecule into its smaller counterparts through rigorous mechanical processes. Bottom-up approach involves subjecting a precursor molecule to different chemical processes thus forming different nanostructures. Size control and contamination are some of the disadvantages of a top-down approach. Bottom-up approach minimizes some of these limitations. Tools like Atomic Force Microscopy (AFM), Scanning Electron Microscopy (SEM), Transmission Electron Microscopy (TEM), Near-field Scanning Optical Microscopy (SNOM), Scanning Probe Microscopy (SPM), X-Ray Diffraction (XRD), and Energy Dispersive X-Ray Spectroscopy (EDX) are some of the techniques generally used for this purpose.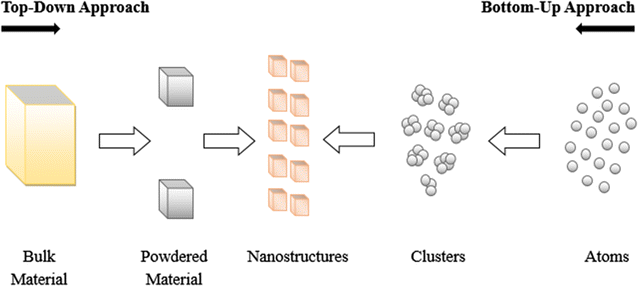 One-dimensional nanostructures like nanowires, nanorods, nanoribbons, and nanofibers are providing a good system to investigate the dependence of thermal and electrical transport or mechanical properties on dimensionality and quantum confinement. They also play an important role as both functional units and interconnects in fabricating electronic, optoelectronic, electromechanical, and electrochemical device in the nanoscale dimension [8]. These nanostructures have been generally synthesized through techniques like chemical vapor deposition, VLS method, lithography, template based and solution based approaches.
Block copolymers are polymer alloys that have rubber-like behavior under normal conditions and can be easily molded at higher temperatures. This is due to the physical crosslinks provided by the glassy domains. Based on the molecular weight, the strength of interaction between the blocks, and segment size, the block copolymers can self-assemble to form nanostructures with specific domain spacing [9]. These properties along with their structure adaptability enable block copolymers to be used in the synthesis of nanostructures, especially one-dimensional nanostructures like nanowires, nanorods nanoribbons, and nanofibers [10].
2 Block copolymers
2.1 Types
Block copolymers have two or more polymer blocks arranged in a specific manner. These blocks are covalently bound together, chemically distinct, and immiscible. Such a structure allows the mechanical, electrical, optical and mass transport behavior of block copolymers to be easily tuned just by tweaking its molecular construction [11].
Based on the arrangement of the blocks, the block copolymers can be of different types. They are di-, tri-, multi-, and multi-arm block copolymers (Fig.
2
). Diblocks consist of two different blocks (A, B) arranged in 'AB' manner while triblocks are arranged in 'ABA', 'BAB' or 'ABC' manner. A, B blocks can be further arranged to form alternating and tapered block copolymers [
12
]. Amphiphilic block copolymers are composed of hydrophobic and hydrophilic parts which cause them to cluster and form micelles and can be used in drug delivery and tissue engineering [
13
]. Multi-arm block copolymers have several branches attached to a common core and some of them are H-shaped [
14
], star-shaped [
15
], miktoarms [
16
].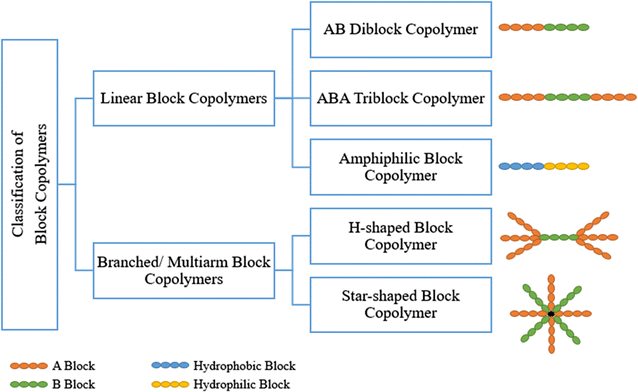 It has been found through experimental and theoretical studies that block copolymers can separate into different forms like spheres, cylinders, lamellae and bicontinuous structures. Factors affecting these forms include copolymer composition, w-parameters and the total degree of polymerization [12].
2.2 Synthesis
Block copolymers especially diblock and triblock copolymers are generally synthesised through living or controlled polymerization of the monomer. The techniques used are ionic polymerisation, free radical polymerisation, metal catalysed polymerization and change of mechanism polymerisation (CHOMP) (Fig.
3
). Anionic and cationic polymerizations are chain polymerizations that use an ionic group as active polymerization centre. These groups are highly reactive and special precautions are necessary to prevent any side reactions. Styrene, diene (monomers) block copolymers with polyacrylate groups are prepared by anionic polymerization. Cationic polymerization is suitable for preparing block copolymer monomers like styrene, vinyl ethers and isobutylene [
17
]. Free radical polymerization causes living polymerization through a free radical group. With this technique, block copolymers can be prepared with monomers that are deemed to be unsuitable for metal catalysed or ionic polymerizations. TEMPO (2,2,6,6-tetramethylpiperidinyl-1-oxy) mediated and RAFT (reversible addition–fragmentation chain transfer) living free radical polymerisation are some of the techniques used for the synthesis of block copolymers [
17
–
19
]. Metal catalysed polymerization uses a metal catalyst for polymerization. This technique is adaptable to many monomers and can be carried out under different reaction conditions. Kharasch addition reaction or atom transfer radical addition and metal catalysed living free radical polymerisation are some of the techniques in this type of polymerization [
20
]. CHOMP is a technique which can be accomplished through in situ conversion of the active centre or by separating the first segment followed by transformation of the active centre during the reaction. Sequential addition of monomers is necessary in both the cases because the active centre of the first monomer can be deactivated or destroyed by the second monomer [
17
].

2.3 Properties
Block copolymers as compared to other copolymers have superior properties and these properties highly depend on the clustering and structural arrangement of the blocks. They allow the combination of significantly high melting points and elastic properties in the same polymer. Block copolymers also exhibit increased tensile strength, modulus, and elongation by suitable selection of the blocks. Other properties like moisture recapture, ability to absorb dyes also depend on the block copolymer's structure [21]. The phase behaviour of a block copolymer is dependent on the following factors: overall degree of polymerisation (N), architectural constraints (n) and composition (ƒ) and the Flory–Huggins interaction parameter (χ). The first two factors influence translational and configurational entropy of the copolymer. Increasing χ by lowering the temperature results in less A-B monomer contact. Large N causes some loss of configurational and translational entropy and causes microphase segregation. Decreasing χ and N causes the formation of compositionally disordered phase [22]. In a study, a series of symmetric EPE triblock copolymers were investigated to study the effect of microphases separation on microstructure and mechanical properties of solid state chain. Block copolymers having crystallizable components can undergo microphase separation either due to chemical incompatibility between the blocks causing the formation of a heterogeneous melt or through the expulsion of a block due to crystallisation of another block. The latter is also known as crystallisation induced microphase separation. The tensile strengths of these triblock copolymers depend on the manner of microphase separation. Crystallization-induced segregation causes lower tensile strength than those with templated crystallisation [23]. To realise the actual potential of block copolymer nanostructures, several strategies are required to control and manipulate spatial orientation, connectivity, periodicity, and long range order [11, 24–27]. Topologically [28] and chemically patterned surfaces [29], solvent annealing [30, 31], temperature gradients [32] and electric fields are some of the techniques which utilize physical and chemical constraints to direct self-assembly of block copolymers into highly well-ordered geometries. Electric fields are a versatile and easy way to control long range orientational and translational order of nanostructured block copolymers as well as miscibility and morphology both in thin films, bulk and solutions [33].
3 Nanostructures and block copolymers
Block copolymers create well-ordered structures by undergoing microphase separation. Their properties can also be controlled through manipulating the three critical parameters mentioned above. Block copolymers can be used to synthesise different nanostructures due to their fitting size and shape. Their properties are also easily tunable by simply changing the monomer used, their compositions and molecular weight. Using block copolymers for fabricating nanostructures is simple and affordable as well [34]. This section briefly focuses on synthesis of nanowires, nanorods, nanoribbons and nanofibers using block copolymers.
4 Conclusion
Nanotechnology has seen many advances in recent years and several synthesis techniques for nanostructures have been developed. These techniques can be mainly classified into top down and bottom-up approaches. Block copolymers have two or more blocks arranged in a defined manner. This arrangement is dependent on factors like Flory–Huggins interaction parameter, degree of polymerization, architectural constraints, and composition. By varying these parameters, it is possible to control the phase behavior and morphology of block copolymers. Such a flexibility enables block copolymers to be used for fabrication of nanostructures as a template or in a solution form. They can also be used to lithographically fabricate nanostructures. One dimensional nanostructures like nanowires, nanorods, nanoribbons, and nanofibers have unique electronic, chemical, optical, magnetic, and mechanical properties due to their nanostructure which enable them to have several applications in different fields of Science. Synthesis of such one-dimensional nanostructures using block copolymers has been discussed in this review. The techniques discussed show the versatility and effortlessness of block copolymers to synthesis these nanostructures.
Declarations
Authors' contributions
DR is responsible for the conception, critical revision of the article and approval of the final version of the article. MT has contributed in the design of the work, data collection and drafting of the article. GP has contributed in design and proofreading of the article. All authors read and approved the final manuscript.
Acknowledgements
Not applicable.
Competing interests
The authors declare that they have no competing interests.
Publisher's Note
Springer Nature remains neutral with regard to jurisdictional claims in published maps and institutional affiliations.
Open AccessThis article is distributed under the terms of the Creative Commons Attribution 4.0 International License (http://creativecommons.org/licenses/by/4.0/), which permits unrestricted use, distribution, and reproduction in any medium, provided you give appropriate credit to the original author(s) and the source, provide a link to the Creative Commons license, and indicate if changes were made.
Authors' Affiliations
(1)
Institute of Research & Development, Gujarat Forensic Sciences University, Gandhinagar, India
Copyright
© Korea Nano Technology Research Society 2017