Boron nitride nanotubes: synthesis and applications
Received: 30 March 2018
Accepted: 15 June 2018
Published: 28 June 2018
Abstract
Boron nitride nanotube (BNNT) has similar tubular nanostructure as carbon nanotube (CNT) in which boron and nitrogen atoms arranged in a hexagonal network. Owing to the unique atomic structure, BNNT has numerous excellent intrinsic properties such as superior mechanical strength , high thermal conductivity, electrically insulating behavior, piezoelectric property, neutron shielding capability, and oxidation resistance. Since BNNT was first synthesized in 1995, developing efficient BNNT production route has been a significant issue due to low yield and poor quality in comparison with CNT, thus limiting its practical uses. However, many great successes in BNNT synthesis have been achieved in recent years, enabling access to this material and paving the way for the development of promising applications. In this article, we discussed current progress in the production of boron nitride nanotube, focusing on the most common and effective methods that have been well established so far. In addition, we presented various applications of BNNT including polymer composite reinforcement, thermal management packages, piezo actuators, and neutron shielding nanomaterial.
Keywords
Boron nitride nanotubesSynthesis methodsScalable synthesisApplications
1 Introduction
Outstanding and exceptional physical properties of a material can emerge when its size reduces to the nanoscale. Developing nanostructure possessing unique features has always been the essence of nanoscience and nanotechnology since the beginning. Among various nanostructures in general and all kinds of a one-dimensional network in particular, nanotubes have built a strong reputation as the most widely studied nanomaterial. Take carbon nanotube as an example, theoretical and experimental research in every aspect of tubular nanostructure have been flourishing ever since the first discovery of CNT in the early 1990s [1]. CNTs offer numerous fascinating applications in electronic [2], sensing [3], composite [4], and many more are being progressed. The development of new class of nanotube beside the famous carbon allotrope has become an attractive topic in recent years.
Boron nitride nanotubes (BNNTs) have a similar tubular structure as carbon nanotubes in which carbon atoms are replaced entirely by boron and nitrogen atoms, arranging in a hexagonal lattice (Fig.
1
). Not surprisingly, because of this similarity, both BNNT and CNT share some identical intrinsic characteristics, such as excellent mechanical properties, high thermal conductivity [
5
]. Their Young's modulus was experimentally measured at a TPa level [
6
–
9
]. Although having smaller Young's modulus and yield strength than those for CNTs, BNNTs were predicted to be thermo-mechanically stable at high temperature [
7
,
10
]. Also, compared to CNTs, BNNTs have similar thermal conductivity [
11
,
12
] and oxidation resistance (up to 900 °C) [
13
]. On the contrary, while CNTs are semimetallic and semiconducting material [
14
], BNNTs are an excellent insulator [
15
] with a wide bandgap (5–6 eV) [
16
,
17
]. The bandgap of BNNT is not dependent on the diameter, and chirality-geometrical information of nanotubes [
16
], but particularly vulnerable to doping [
18
–
21
], and functionalization [
22
,
23
]. The contradiction in electronic property is knowingly attributed to the polarity in B–N bond caused by the difference in electronegativity of boron (2.04), and nitrogen (3.04) [
24
,
25
].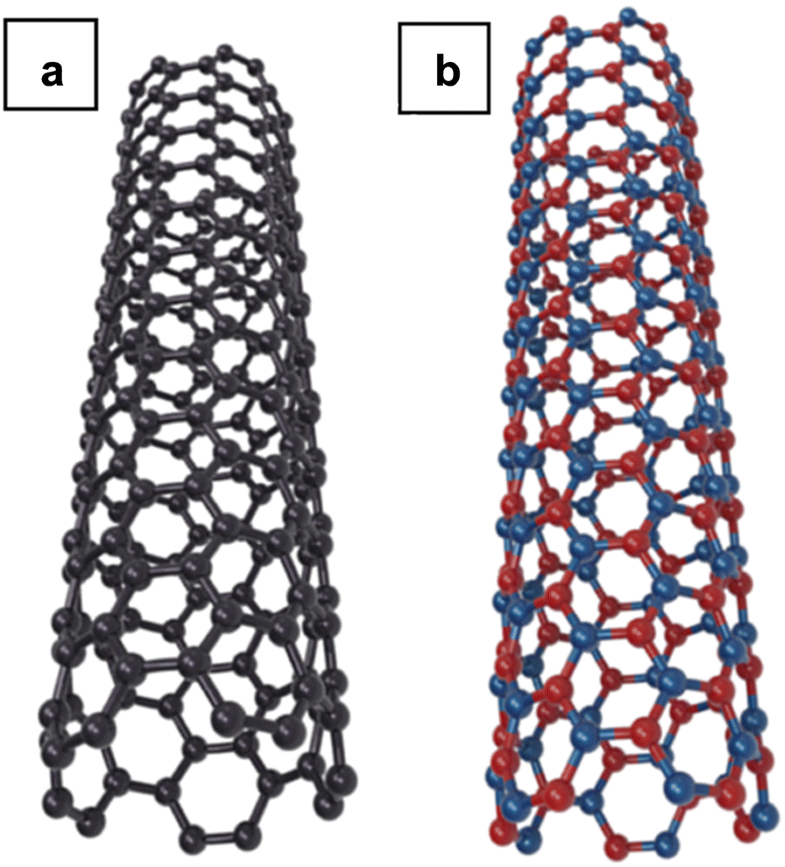 Extraordinary and yet distinct characteristics of BNNT have triggered great interest in fundamental studies on properties and applications of this new exotic material. However, unlike research in CNTs which has been well established over a decade, the study on of BNNT is still immature and far less developed than the carbon counterpart. The reason for this situation lies in the synthesis of BNNT which still remains a significant challenge since BNNT was first discovered in 1995 [26]. Whereas the production of high-quality CNT can be easily done in a laboratory with simple equipment, BNNT synthesis require specially designed apparatus in extreme conditions. The lack of efficient synthesis route combining with the high price of readily commercial products could seriously hinder the study of BNNT in the long term. Many remarkable successes in BNNT synthesis have been recently achieved utilizing newly developed and novel techniques. Large quantity and high quality of BNNT are now becoming accessible, and in turn this will gradually foster BNNT research field. In this review, we will present BNNT synthesis methods that are currently widely used, and applications of BNNTs in various area.
2 BNNT synthesis methods
BNNT has been synthesized mainly by methods that have been well documented earlier for CNT fabrication including arc discharge [27], chemical vapor deposition (CVD) [28], laser ablation [29], etc. The essential factor rendering efficient BNNT synthesis process is the rate of conversion from boron and nitrogen sources into BN radicals. Each fabrication technique was scientifically developed in different and distinct strategies, involving specific precursors, conditions, and equipment to promote the growth of BNNT. In this chapter, we will present an overview of various synthesis methods and underline notable features.
3 Summary
Major achievements in the production of boron nitride nanotube in recent times are the favorable outcome of the development of novel approaches including boron oxide-chemical vapor deposition (BOCVD), thermal plasma, and high temperature–pressure laser ablation. The typical strategy sharing among these methods is to stimulate the direct reaction between boron and nitrogen precursors. This can be done systematically by several ways such as creating highly disorder or amorphous structure in starting materials (ball milling), utilizing effective catalysts (floating catalyst CVD), and producing gas-phase (BOCVD) or liquid-phase (HPC laser ablation) reaction between boron and nitrogen gas. Although the quality and quantity of BNNT have been significantly improved, these approaches also exert side effects, for example, undesirable formation of amorphous boron, boron nitride, and h-BN, thus, leading to the degradation of BNNT purity. To tackle this problem, besides developing an efficient purification process, optimizing synthesis method is critically important. However, in doing so, it requires a profound understanding of the growth mechanism of BNNT in every single method. Recently, computer simulation and in situ diagnostic tools to evaluate every critical factor from several research groups have initially provided some insight into growing process of BNNT [51, 53, 58]. On the other hand, the widespread availability of BNNT has triggered great interest in the development of BNNT applications. The effectiveness of BNNT has been promisingly approved in reinforcing polymeric composite, boosting thermal managing capability of electronic devices, and enhancing neutron shielding in aerospace. Although the BNNT-related technology is still in its infancy, it is expected that many more fascinating applications will be developed in years to come.
Declarations
Authors' contributions
JHK wrote the manuscript and MJK guided manuscript preparation. TVP and JHH helped writing the manuscript. CSK gave corrections to enhance the manuscript quality. All authors read and approved the final manuscript.
Acknowledgements
This work was supported by a Grant from the KIST 4U ORP (Open Research Program).
Competing interests
The authors declare that they have no competing interests.
Availability of data and materials
The review is based on the published data and sources of data upon which conclusions have been drawn can be found in the reference list.
Publisher's Note
Springer Nature remains neutral with regard to jurisdictional claims in published maps and institutional affiliations.
Open AccessThis article is distributed under the terms of the Creative Commons Attribution 4.0 International License (http://creativecommons.org/licenses/by/4.0/), which permits unrestricted use, distribution, and reproduction in any medium, provided you give appropriate credit to the original author(s) and the source, provide a link to the Creative Commons license, and indicate if changes were made.
Authors' Affiliations
(1)
Applied Quantum Composites Research Center, Korea Institute of Science and Technology, Wanju, Republic of Korea
(2)
Department of Bionanosystem Engineering, Graduate School, Chonbuk National University, Jeonju, Republic of Korea
(3)
Division of Mechanical Design Engineering, Chonbuk National University, Jeonju, Republic of Korea