X-ray generation using carbon nanotubes
Received: 16 September 2014
Accepted: 6 October 2014
Published: 6 January 2015
Abstract
Since the discovery of X-rays over a century ago the techniques applied to the engineering of X-ray sources have remained relatively unchanged. From the inception of thermionic electron sources, which, due to simplicity of fabrication, remain central to almost all X-ray applications, there have been few fundamental technological advances. However, with the emergence of ever more demanding medical and inspection techniques, including computed tomography and tomosynthesis, security inspection, high throughput manufacturing and radiotherapy, has resulted in a considerable level of interest in the development of new fabrication methods. The use of conventional thermionic sources is limited by their slow temporal response and large physical size. In response, field electron emission has emerged as a promising alternative means of deriving a highly controllable electron beam of a well-defined distribution. When coupled to the burgeoning field of nanomaterials, and in particular, carbon nanotubes, such systems present a unique technological opportunity. This review provides a summary of the current state-of-the-art in carbon nanotube-based field emission X-ray sources. We detail the various fabrication techniques and functional advantages associated with their use, including the ability to produce ever smaller electron beam assembles, shaped cathodes, enhanced temporal stability and emergent fast-switching pulsed sources. We conclude with an overview of some of the commercial progress made towards the realisation of an innovative and disruptive technology.
Keywords
X-rayField emissionElectron sourceCarbon nanotubesCarbon nanofibresNano carbonsScreen printingElectrophoresisVacuum filtrationChemical vapour depositionTomosynthesisMicro focal
1 Introduction
Since the discovery of X-rays in 1895 [
1
], X-ray analysis and diagnostics have been some of the most widely researched areas in science and engineering. In the first quarter of the last century, almost half of the Nobel prizes awarded were connected with contributions to this field. Whilst the initial discoveries created great interest towards understanding the source of this novel light, it was only a short period before the applications of this "new light" became evident. J.J. Thomson had already established their ionising nature [
2
] and it was recognised that X-rays had different characteristics, initially termed qualitatively as "hard", "medium" and "soft" [
3
]; a classification which related to the relative absorption by soft tissue and bone. Certainly even at this early phase the implications for medical diagnostics was clear. Early examples included the identification of bullets and bone fractures in wounded soldiers. This resulted in a range of instruments, various densitometers, chiroscopes and osteoscopes [
4
]. Soon thereafter this lead to the analysis of the diagnostic capabilities and therapeutic benefits of this new technology [
5
]. The increasing importance of X-ray techniques was evident with the development of X-ray diffraction methods [
6
–
8
] which lead ultimately to evidence the structure of DNA [
9
]. Compton back-scattering and fluorescence provided yet another raft of valuable applications [
10
–
13
]. Nevertheless, despite the growing range of X-ray techniques, the primary area of application of X-rays has remained in medical diagnosis. Additionally, X-ray sources have proven important in a wide range of inspection technologies; for medical and analytical, to security and industrial quality control. As illustrated in Figure
1
, X-ray sources can be applied to a wide range of applications, including materials analysis (X-ray fluorescence, X-ray diffraction), medical and dental diagnosis and treatment (transmission radiography, computed tomography, tomosynthesis, radiotherapy and bracotherapy), electronics inspection, food security, non-destructive testing, thickness and defect monitoring, pharmaceutical quality control, and international border security. Indeed, X-ray sources are ubiquitous and have impacted on almost every area and aspect of science and industry.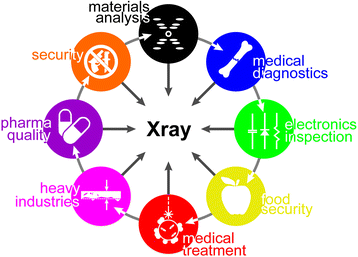 The strategies for developing new X-ray sources are based on criteria driven by the needs of current applications. Despite the apparent maturity of the technology, many critical challenges remain, including; rapid beam pulsing, dose reduction, improved image contrast, and enhancement of the spatial and temporal resolution. In this review we discuss the use of carbon nanotubes (CNTs) as a platform for emerging novel field emission X-ray sources. We detail the current state-of-the-art in CNT emitter fabrication including the electron source and the gate electrode micro-fabrication, functional enhancements including reduced turn-on electric fields and enhanced stability via the incorporation of adlayers, improved X-ray beam distribution symmetry achieved through cathode shaping, micro focal sources, pulsed emission, multi-pixel sources, and miniaturisation. We conclude by providing an overview of the commercial progress to date.
3 Conclusion
Here we have reviewed the current state-of-the-art in carbon nanotube-based field emission X-ray sources. Issues from fabrication to functionality have been considered. The various systems demonstrated to date have been described, highlighting some of the technological barriers facing the technology. Compared to other electron emission materials, the potential of carbon nanotubes is largely unparalleled. Their attractive morphological and electronic properties are very promising for future electron source technologies. Within the coming decade there is the distinct possibility that FE electron sources will reach a level of technological maturity where they pose a distinct and real threat to incumbent thermionic sources. The high attainable current densities, rapid pulsing and multi-pixel potential, mediated by the ability to pattern at the sub-micron scale, will likely result in a number of persuasive proof-of-principle prototypes that will help disrupt the incumbent, yet technologically stagnated, thermionic source market. Significant further research is needed to realise this commercial potential. Nonetheless, it remains clear that carbon nanotube-based field emission X-ray sources have great prospects. Their intrinsic manufacturability and enhanced functionality will undoubtedly be key in realising a new generation of innovative X-ray scanning techniques, applicable across many fields and industries, which have hitherto been unavailable.
Abbreviations
β:

Field enhancement factor
FN:

Fowler-Nordheim
Ia :

Anode current (A)
J:

Current density (A/cm2)
FE:

Field emission
PE:

Photoelectric emission
TE:

Thermionic emission
CNF:

Carbon nanofibres
CNT:

Carbon nanotubes
MWCNT:

Multi-walled carbon nanotube
SWCNT:

Single-walled carbon nanotube
Declarations
Acknowledgements
The author's thank Dr C. Li, Prof. W. Lei, and Prof. B.P. Wang of Southeast University, China, for their on-going collaboration. M.T.C. thanks the Winston Churchill Trust and the Oppenheimer Research Fellowship for generous financial support. This work was supported by an EPSRC Impact Acceleration grant and a TSB Advanced Materials Feasibility award.
Authors' Affiliations
(1)
Department of Engineering, Electrical Engineering Division, Cambridge University, Cambridge, UK
Copyright
© Parmee et al.; licensee Springer. 2015
This is an Open Access article distributed under the terms of the Creative Commons Attribution License (http://creativecommons.org/licenses/by/4.0), which permits unrestricted use, distribution, and reproduction in any medium, provided the original work is properly credited.