Priming nanoparticle-guided diagnostics and therapeutics towards human organs-on-chips microphysiological system
Received: 10 July 2016
Accepted: 13 September 2016
Published: 1 October 2016
Abstract
Nanotechnology and bioengineering have converged over the past decades, by which the application of multi-functional nanoparticles (NPs) has been emerged in clinical and biomedical fields. The NPs primed to detect disease-specific biomarkers or to deliver biopharmaceutical compounds have beena validated in conventional in vitro culture models including two dimensional (2D) cell cultures or 3D organoid models. However, a lack of experimental models that have strong human physiological relevance has hampered accurate validation of the safety and functionality of NPs. Alternatively, biomimetic human "Organs-on-Chips" microphysiological systems have recapitulated the mechanically dynamic 3D tissue interface of human organ microenvironment, in which the transport, cytotoxicity, biocompatibility, and therapeutic efficacy of NPs and their conjugates may be more accurately validated. Finally, integration of NP-guided diagnostic detection and targeted nanotherapeutics in conjunction with human organs-on-chips can provide a novel avenue to accelerate the NP-based drug development process as well as the rapid detection of cellular secretomes associated with pathophysiological processes.
Keywords
NanoparticleNano-biotechnologyOrgans-on-chipsMicrophysiological systemDiagnosticsTherapeutics
1 Introduction
Nanoparticles (NPs) have been extensively applied to biomedical fields. For example, gold NPs have specific optical properties and surface plasmon resonance (SPR) effect, which enable to rapidly and accurately detect biomarkers in combination with immunoselective molecules such as antibodies [1]. NPs perform as a therapeutic adjuvant with multiple functionality, by which programmed drug delivery as well as enhanced therapeutic efficacy can be expected [2]. Despite of these advantages, there are evident challenges in terms of the safety assessment of NPs in the human body [3, 4]. For instance, only a limited number of nanotherapeutics using albumin NPs [5] or iron oxide NPs [6] has been approved by the US Food and Drug Administration (FDA) because of the unclear pharmacokinetics (PK) of NPs in terms of the nanotoxicity and absorption, distribution, metabolism, and excretion (ADME) profiles [5]. To validate PK profiles of NPs, animal models (mostly rodent surrogates) have been widely exploited [7]. Indeed, the potential of animal models for testing NPs has been validated in a variety of biomedical researches such as diagnostics and therapeutics [2, 8–10], delivery of drugs or genes [11–13] and imaging for a target organ or transplanted cells [14, 15]. Furthermore, animal models have provided valuable in vivo rationales to ultimately target human, such as image-guided surgery using near infrared (NIR) emitting dye-loaded NPs [16], NP-based tracking of transplanted stem cells under magnetic resonance imaging (MRI) or fluorescence imaging [15], and cancer treatment using anti-cancer drug-conjugated NPs [17]. Although animal models are useful to track the translocation of NPs in vivo, it is notably challenging to understand cellular and molecular mechanism of NPs in a spatiotemporal manner. Moreover, the discrepancy in physiological responses between animal models and human may result in serious misunderstanding of the efficacy and nanotoxicity of NPs.
Alternatively, microfluidic models in part allow in vivo relevant culture of human cells under physiological fluid shear stresses mimicking either the blood circulation or the interstitial extracellular fluid that may influence on the transport of NPs [18, 19]. In recent years, breakthroughs of microfluidic approaches in combination with multi-cellular co-culture have emerged biomimetic human "Organs-on-Chips" microphysiological system that can recapitulate the in vivo relevant physiology and pathology in vitro [20]. The microengineered human organ models have leveraged the "Reverse Engineering" approach to demonstrate organ-level responses of highly organized tissue surrogate reconstituted in a structurally defined 3D microfluidic device under organ-specific mechanical actuations [21]. In this bioinspired organomimetic model, multiple types of tissue-specific human cells including differentiated epithelium, capillary or lymphatic endothelium, mesenchymal connective tissues, tissue-resident or circulating immune cells, as well as living human microbiome can be contemplated to cogently validate the efficacy and toxicity of NP-based nanotherapeutics.
In this review, we discuss recent progresses of NP-guided diagnostics and therapeutics that have been applied to the in vitro models. In particular, we focus on the potential applications of NPs in human organs-on-chips microsystems to assess the functional reactivity and the detection capacity of NPs that can be translated to applicability in clinical diagnostics and therapeutics.
2 In vitro models for validating the functionality of NPs
3 Future perspectives
The convergence of nanotechnology and bioengineering is one of the promising pathways for pharmaceutical and clinical applications. The validation of in vivo functionality and safety of NPs, however, remains as a key missing piece, which restricts the applications of NPs for the smart drug delivery or the therapeutic treatment to the patients. Furthermore, a more sophisticated integration of multiple NP-based sensing modules that can detect, amplify, and process the cellular secretomes during cell–cell or cell-microbe interactions is a critical unmet need. To surmount these challenges, organs-on-chips technology can be contemplated as an integrative platform not only to investigate the functionality of NPs on the specific organ/disease model (Fig.
3
) but also to analyze diverse cellular and molecular signals in situ during the biological (e.g. host-microbe crosstalks) or physical perturbations (e.g. peristalsis-like deformations in the gut) by sequentially interconnecting the sensing and screening units (Fig.
4
).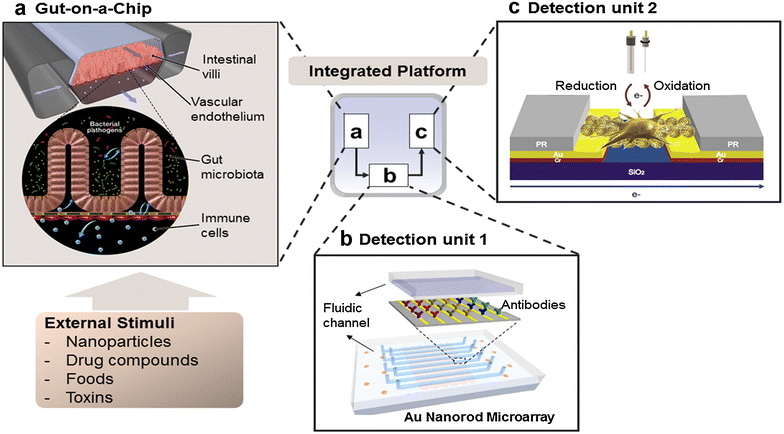 For example, a human gut-on-a-chip device [66, 68, 78] employing intestinal villi colonized by gut microbiome demonstrates complex host-microbiome interactions that can modulate epithelial differentiation and immune modulation (e.g. balance of helper vs. regulatory T lymphocytes) (Fig. 4a) [78]. During the complex host-microbe interactions, gut microbiome, intestinal epithelium, and resident immune components produce various molecular secretomes such as short-chain fatty acids (SCFA) [79], cytokines and chemokines [80], and antimicrobial peptides [81] under homeostatic condition. When this microenvironment is challenged by the factors that can induce inflammatory responses such as dysbiosis [82], susceptible genetic background of the host [83], pathogenic infection [84], or ingestion of toxic compounds [85], intestinal homeostasis is immediately compromised resulting in the switch-on of inflammatory signaling cascades and subsequent secretion of proinflammatory cytokines that can exacerbate the disease symptoms. Hence understanding the fate of those intermediate compounds and their steady-state homeostatic level is of great importance to interrogate cellular and microbial signatures in situ. And obviously, this is a critical feature that cannot be easily achieved by existing animal, 2D in vitro, and 3D static organoid models.
We anticipate sequential integration of NP-guided "Detection units" that can rapidly and accurately quantitate the transient level of metabolites and secretomes released by the cells grown in an organ chip (Fig. 4b, c). The concentration of secretomes may be instantly measured by the microfluidic SPR microarray detection unit that is linked to the gut-on-a-chip (Fig. 4b) [86]. In addition, we may assess the differentiation level of neural stem cells in the brain tissue that are communicating with the gut microbial metabolites (e.g. SCFAs) to demonstrate physiological functions of the gut-brain axis [87] using the NP-based electrochemical sensing system with in situ monitoring (Fig. 4c) [88]. Similar approaches employing the sequential integration of other organs-on-chips and NP-guided detection units will provide ample opportunities in diagnostics to understand the biological processes during the physiological reactions with spatiotemporal resolution.
In this review article, we discussed the recent progresses of human organs-on-chips microphysiological system as an alternative model that can potentially replace existing animal and in vitro cell culture models. In the current stages, there are considerable shortcomings in organs-on-chips technologies that are still challenging to provide the macroscopic feature of organ physics or inter-organ interactions. Furthermore, some features may never be possible to be realized on-chip, such as the demonstration of human behavior on-chip. However, the integration of nanotechnology with the organs-on-chips technology will provide a paradigm-shift in diagnostics and therapeutics, which can in part accelerate the practical advances for biomedical, pharmaceutical, and clinical applications.
Declarations
Authors' contributions
JHC, JWC, and HJK designed the paper; JHC, JL, WJS, and HJK wrote the paper. All authors read and approved the final manuscript.
Acknowledgements
This research was supported in part by Leading Foreign Research Institute Recruitment Program through the National Research Foundation of Korea (NRF), funded by the Ministry of Science and ICT and Future Planning (MSIP) (2013K1A4A3055268). Hyun Jung Kim is a recipient of 2015–2016 Research Grant Award by the Office of the Vice President for Research at UT Austin. Jaewon Lee is a recipient of Graduate Student Fellowship in Alternatives in Scientific Research of The International Foundation for Ethical Research (IFER).
Competing interests
The authors declare that they have no competing interests.
Open AccessThis article is distributed under the terms of the Creative Commons Attribution 4.0 International License (http://creativecommons.org/licenses/by/4.0/), which permits unrestricted use, distribution, and reproduction in any medium, provided you give appropriate credit to the original author(s) and the source, provide a link to the Creative Commons license, and indicate if changes were made.
Authors' Affiliations
(1)
Department of Biomedical Engineering, The University of Texas at Austin, Austin, USA
(2)
Department of Chemical & Biomolecular Engineering, Sogang University, Seoul, Republic of Korea
(3)
Interdisciplinary Program of Integrated Biotechnology, Sogang University, Seoul, Republic of Korea
(4)
School of Medicine, Pusan National University, Yangsan, Republic of Korea