The nanomaterial toolkit for neuroengineering
Received: 30 July 2016
Accepted: 29 September 2016
Published: 20 October 2016
Abstract
There is a growing interest in developing effective tools to better probe the central nervous system (CNS), to understand how it works and to treat neural diseases, injuries and cancer. The intrinsic complexity of the CNS has made this a challenging task for decades. Yet, with the extraordinary recent advances in nanotechnology and nanoscience, there is a general consensus on the immense value and potential of nanoscale tools for engineering neural systems. In this review, an overview of specialized nanomaterials which have proven to be the most effective tools in neuroscience is provided. After a brief background on the prominent challenges in the field, a variety of organic and inorganic-based nanomaterials are described, with particular emphasis on the distinctive properties that make them versatile and highly suitable in the context of the CNS. Building on this robust nano-inspired foundation, the rational design and application of nanomaterials can enable the generation of new methodologies to greatly advance the neuroscience frontier.
Keywords
NanomaterialsNanoparticlesNeuroscienceNeuroengineeringStem cellsRegenerative medicineDrug deliveryOptogenetics
1 Background
The fields of biology and medicine have heavily relied on advances in technology to better understand how the human body works. These advances range from the creation of simple tools to conduct surgery (e.g. scalpel), devices to measure physiological levels (e.g. electrocardiograph) and instrumentation to image the body in real time (e.g. fMRI). Besides studying the human physiology, these types of technological advances have further enhanced our capabilities to diagnose, prevent and even treat medical ailments such as disease, cancer and traumatic injuries. In general, the continual development of precision tools has enabled scientists and clinicians to acquire a remarkable breadth of knowledge about biological systems.
Among other disciplines, the field of neuroscience has greatly benefited from such advances. Neuroscientists have long strived to acquire a complete understanding of how the nervous system works. Early work involved investigating the bulk anatomical makeup of the brain, primarily through dissecting human cadavers. Taking the human brain as an example, it is organized into distinct lobes within the centimeter range (Fig.
1
). The lobes were recognized to correspond to specific physiological functions, whether it be processing sensations of touch (parietal lobe) or controlling body movement (frontal lobe). Thereafter, the discovery of the role of electricity in nerve signaling, along with the development of microscopy, allowed scientists to go even deeper to the micrometer scale of neurons and glia cells. Millions of neurons in the distinct regions of the brain, are organized into ensembles or circuits, which serve to process and carry information throughout the nervous system. Going even deeper to the nanometer scale, the distinct neural cells are composed of numerous biomolecules and receptors on the surface membrane, which enable multidirectional interactions with the surrounding microenvironment. There is growing interest in the miniaturization of tools to better control and understand neural systems at this fundamental scale [
1
]. Biological systems function with extraordinary fidelity at the molecular level, which permits robust structure and function at the cellular, tissue and organ level. The ability to probe systems like the nervous system at the fundamental resolution that they have naturally evolved to function is revolutionary. Nanotechnology has enabled the design of materials and devices to do just that. It has enhanced our understanding of how biological systems work at the nanoscale, and further allowed the development of nanoscale tools to improve the quality of life after disease or injury [
2
]. The integration of engineered materials with intact biological systems has proven to be highly transformative and is possible due to the growing understanding of nanoscience and nanotechnology.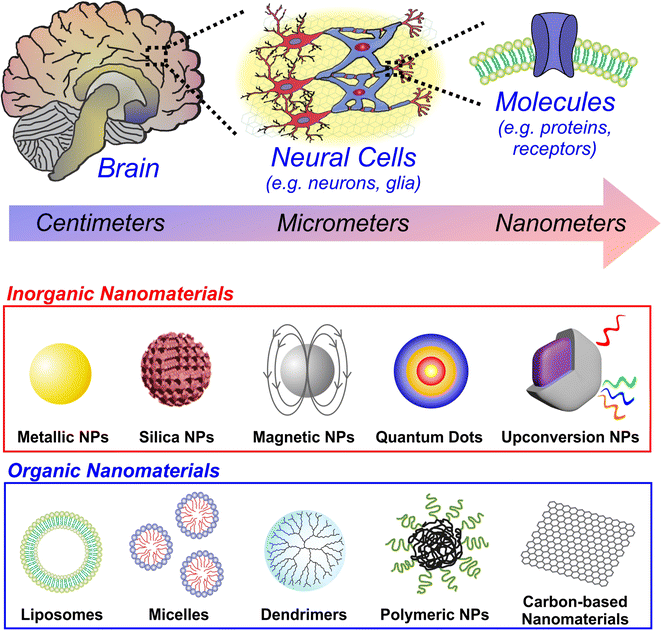 To this end, nanoscale materials hold immense potential for engineering neural systems. The ability to precisely tailor the properties of nanomaterials permits scientists and clinicians to effectively employ them for a wide variety of applications. In this review, we will first explore the current challenges and existing approaches in the field of neuroscience. We will then see how nanomaterials can be utilized to address these challenges, with a focus on the distinctive properties that make them highly suitable tools for advancing neuroscience research (Fig. 1).
2 Current challenges and approaches in neuroscience
The central nervous system (CNS) consists of the brain and the spinal cord. The brain primarily coordinates and processes higher-level functions (e.g. sensory processing, cognition, motor movements, etc.), while the spinal cord serves as a medium of communication between the brain and the periphery. The CNS is further composed of two key cell types: neurons and glia. Neurons serve to process changes in the environment, communicate the changes throughout the system and direct the body's response to such changes. Glia are the supportive and most abundant cells of the nervous system which help support neighboring neurons and maintain homeostasis. The intricate network of billions of these neural cells, presumably organized in defined arrangements to impart specific neural activity, gives rise to thoughts, feelings, memories and life as we know it. In this section, we will look at three key areas of active CNS research: (a) neuro-regenerative therapies, (b) delivery of therapeutics, and (c) neuromodulation.
2.1 Neuro-regenerative therapies
The CNS is very sensitive to damage, including infection, hypoxia, stroke, neurodegenerative diseases, and injury. The inevitable loss of neural cells makes this particularly devastating, since it leads to debilitating motor and cognitive impairment. For example, Parkinson's disease (PD) results in the gradual loss of midbrain neurons in the substantia nigra which synthesize the neurotransmitter dopamine (DA), leading to rigidity and tremors [3]. Like neurodegenerative diseases, traumatic injuries can cause the loss of neural cells, in addition to complex microenvironments as the injury progresses from acute to chronic stages [4]. If kept untreated, a series of damaging conditions continue to accumulate, resulting in continued degeneration and dysfunction [5]. Due to the limited regenerative capabilities of the CNS, the loss of nervous tissue is extremely detrimental. To this end, cellular-based therapies have emerged as a promising route of therapy for CNS-related diseases and injuries [6]. The rationale is simple: replace the lost cells with new cells, in order to restore function. Cell transplantation started with clinical trials in patients with PD, in which transplantation of human fetal mesencephalic tissue rich in dopaminergic neurons was found to normalize dopamine release and reverse impairment in cortical activation [7, 8]. However, such an approach relies on the availability of donor tissue, making it an impractical long-term solution.
In this context, stem cell-based therapies have gained tremendous attention for neural disorders [9]. Stem cells are particularly suitable since they have the innate capability to self-renew, serving as a renewable source of transplantable cells that can be routinely expanded. At the same time, stem cells can differentiate into various cellular lineages, allowing for the generation of specific neural cell types of interest. Various types of stem cells, including embryonic stem cells (ESCs), induced pluripotent stem cells (iPSCs), fetal neural stem cells and mesenchymal stem cells (MSCs), have proven to be therapeutically beneficial after transplanting into damaged neural systems [10–12]. While cell transplantation initially started as an approach for cell replacement, the transplanted stem cells have been observed in recent years to imbue a number of favorable therapeutic effects in the CNS recovery process. This includes a decrease in inflammation, neuro-protection, remyelination, production of neurotrophic factors to enhance axonal regeneration and the enhancement of endogenous recovery processes [13].
Nevertheless, an active area of current research lies in achieving reproducible control of stem cell differentiation towards a pure, defined neural cell populations. The uncontrolled stem cell growth or differentiation after transplantation (e.g. teratoma formation from pluripotent cells [14]) is clearly unacceptable for clinical applications. Moreover, in vitro differentiation protocols tend to be fairly lengthy and complex; the general biologist's approach tends to require supplementing a number of chemical compounds, biological factors or viral gene vectors, which can lead to high variability between experiments. Another common problem is the limited survival of transplanted cells and poor interaction with host tissue. For this reason, long-term viability and integration are critical factors to consider when it comes to re-establishing the damaged neuronal circuitry [13]. At the same time, the in vivo CNS microenvironment can be highly heterogeneous, with major fluctuations at the molecular and cellular level especially in the damaged site. In turn, achieving spatiotemporal control of stem cell behavior and differentiation after transplantation is quite challenging [15]. Engineering how the cell interacts with the surrounding environment is therefore critical when it comes to advancing stem cell-based neuro-regenerative therapies [16].
2.2 Delivery of therapeutics to the CNS
Pharmacological approaches have been widely explored for the delivery of therapeutics to the CNS [17]. Therapeutic agents for CNS delivery result from screening the fundamental mechanisms of action in normal neural tissue versus diseased/damaged tissue. In this regard, therapeutics which are valuable and effective against neural disorders can come in many different forms. For instance, restoring the sufficient levels of the neurotransmitter dopamine has been reported to be a viable treatment option for patients with PD, leading to the use of dopamine precursors like levodopa or dopamine agonists [18]. On the other hand, anticancer drugs are essential for treating malignant brain tumors like glioblastoma multiforme (GBM), one of the most aggressive forms of brain cancer [19]. A number of drugs have been designed to target different molecular pathways, including paclitaxel and temozolomide [20]. Biopharmaceutics have also become attractive for CNS therapies. These include peptides, recombinant proteins, enzymes, monoclonal antibodies, and gene vectors. Compared to small molecule drugs, this class of therapeutics tends to have higher specificity and potency [21]. For instance, genomic sequencing and bioinformatics approaches have identified therapeutic targets for GBM that can be targeted with viral vectors and microRNAs [22]. In another example, in vivo administration of antibody inhibitors targeting β-secretase and α-synuclein were found to reduce amyloid-β concentrations [23] and α-synuclein aggregates [24], respectively, for treating dementia.
While multitudes of therapeutics exist for treatment, delivery to the CNS has proven to be challenging. Intracerebroventricular injection is one direct delivery option, wherein therapeutics are injected directly into the cerebral lateral ventricles [25]. However, such a strategy is highly invasive and not a feasible option for therapies requiring frequent injections. Intrathecal administration via cerebrospinal routes is also popular and generally favorable, but the restricted diffusion in the brain compared to the blood is a limiting factor [21]. These challenges arise from the fact that the CNS is highly-protected and dynamically-regulated by key physical barriers, which prevent the invasion of foreign or unwanted substances. While favorable for maintaining homeostasis, it is a critical obstacle for the systemic delivery of therapeutic agents. The blood–brain barrier (BBB) is the primary barrier protecting the CNS, consisting of a layered structure composed of endothelial cells, the capillary basement membrane, pericytes and astrocyte foot processes [26]. The tight junctions formed between the endothelial cells permits the free diffusion of small molecules, such as oxygen, carbon dioxide and water, but highly limits the movement of large molecules including most therapeutics [27].
Even though systemic delivery is limited by the BBB, targeted therapies have been developed to enhance the permeability across the BBB by: modifications of the drug, temporary disruption of the BBB using chemical or physical perturbation, catheter-based interstitial delivery or drug-eluting reservoir systems [28]. Depending on the approach, there are multiple design considerations to take into account. The first is the type of therapeutic that is to be delivered. Given that different compounds have varying chemical, physical and biological properties (e.g. small molecules versus antibody versus RNA molecule), the stability and formulation must be maintained for maximum efficacy. Second, sufficient dosing must be achieved to stay within the therapeutic window. The amount of drug administered versus the actual drug that reaches the target can significantly differ due to fluctuations in pharmacokinetics. This may thus require higher effective doses, which can be lethal, expensive, and compromise patient compliance. Balancing these considerations based on the neurological disorder to be treated is therefore essential for enhancing therapeutic delivery to the CNS.
2.3 Neuromodulation
Mapping the neural circuitry of the brain is currently a major initiative for neuroscientists worldwide [29]. Determining the specific organization of billions of neurons, interconnected via trillions of synapses, is fundamental to unlocking how the CNS processes information to coordinate neural activity, cognition and behavior [30]. In this regard, there is a general consensus on the need for tools to better interface with the nervous system to enable the measurement and manipulation of neural signaling.
Electrodes are commonly used to record and stimulate neural activity. The most basic system is an electrolyte-filled micropipette, which is still employed for in vitro electrophysiology experiments to measure changes in current and/or potential of neurons [31]. By further modifying the physical dimensions, electrodes have been placed into mammalian brains for local neural stimulation and recording as well. One such example is deep brain stimulation, in which electrodes are implanted and stimulated near the internal globus pallidus and subthalamic nucleus to treat PD patients [32]. In order to acquire multipoint readings, microfabrication techniques and MicroElectroMechanical Systems (MEMS) have also been widely used to generate micron-scale multielectrode arrays [33]. For electrode compositions in general, a number of different metals have been explored, including gold, platinum, steel and iridium oxide [34]. However, metallic electrodes tend to be mechanically hard (50–500 GPa) compared to soft nervous tissue (0.1–1 kPa), which causes neural damage and incurs an inflammatory response after insertion [35]. Yet, electrodes must also be brought in close proximity to the target region for both effective stimulation and measurement. At the same time, long-term implantation further causes a chronic inflammatory response, leading to gliosis near the surface of the electrode and thus reducing signal transduction due to the increase in the impedance [36].
A recent technology that has significantly transformed neuromodulation approaches is optogenetics. Optogenetics involves genetically engineering cells to express photosensitive proteins, which would in turn alter their membrane potential or other cellular properties upon illumination. The core premise of this new sub-field of neuroscience lies in the selective expression of microbial opsin genes in targeted neural populations. For example, the expression of visible light-activated cation channels from algal species, such as the 470-nm blue-light responsive channelrhodopsin-2 from Chlamydomonas reinhardtii (ChR2) or the 535-nm green-light responsive channelrhodopsin-1 from Volvox carteri (VChR1), into mammalian neurons were found to transduce trains of millisecond-duration light flashes into time-locked depolarizations [37]. On the other hand, chloride-pumping halorhodopsin from Natronomonas pharaonis (NpHR) can hyperpolarize and thus inhibit neuronal firing using yellow-light (589 nm) [38]. Molecular engineering techniques to modify these microbial proteins and encode them in viral vectors has allowed for the introduction of these opsin genes into mammalian cells, with the first in vitro demonstration using mammalian neurons in 2005 [39]. By 2007, the first in vivo demonstration which linked optically-manipulated neural activity with specific behavioral changes in freely-moving mammals was reported [40]. By combining the spatiotemporal resolution of optical hardware with the genetic manipulation of specific cell types, optogenetics has allowed for the precise control of neural activity in select regions of the brain [41]. In other words, exposure of genetically-manipulated neuronal cells to light has facilitated the ability to modulate neural activity at a timescale relevant to brain function. Over the last decade, optogenetic techniques have elucidated neuronal circuits of numerous neural-related states and disorders including fear and anxiety, addiction, depression, reward-seeking, schizophrenia and PD [42]. While optogenetics is continuing to enable novel studies that were previously impossible, a number of fundamental limitations exist, including lack of deep tissue penetration using conventional visible light sources, the need for invasive surgeries to deliver light, and difficulties in targeting deeper brain regions [43]. A completely non-invasive approach for neural modulation would be ideal, but it may prove to be difficult due the lack of precise control in mapping or stimulating specific regions of the brain without intervention.
Regardless of the approach employed to modulate neural activity, a clear consideration for future development is to reduce invasiveness while achieving maximal quality of signal recording or stimulation. The key will be to design materials that offer optimal interfacing with intact nervous tissue, both in regard to structural (i.e. mechanical) and surface (i.e. chemical, physical) properties.
3 Nanomaterials for neuroengineering
Nanomaterials have a number of unique properties that make them attractive for addressing the abovementioned challenges. For instance, the small size (below 1 micron) enables facile delivery throughout the body and into cells by crossing the plasma membrane [44]. While different cell types may have a different composition of lipids and proteins in the plasma membrane, nanomaterials cross the plasma membrane and are internalized in a size-dependent manner via endocytosis pathways, such as clathrin-mediated endocytosis, caveolae-mediated endocytosis, or phagocytosis [45]. Moreover, the surface chemistry of the nanomaterial also plays a defining role, wherein it can be adjusted to selectively bind biomolecules found on the cell membrane, in specific normal/diseased tissues, or in bodily fluids (e.g. blood, interstitial fluids, etc.). This can be achieved by conjugating cell-specific targeting ligands or antibodies to the surface. As a result, nanomaterials can be preferentially targeted to specific tissues (e.g. cancerous tissue) upon injection into the blood stream. At the same time, the nanomaterial surface can be chemically-functionalized (e.g. PEGylation) to improve circulation time in the body and evade clearance by the liver or kidney [46]. In addition, nanomaterials with a variety of different compositions, both inorganic and organic, can be synthesized. This is especially advantageous since different compositions impart specific physicochemical, thermal, electrical, magnetic, mechanical, and/or optical properties of the nanomaterial. In this section, we will explore the various types of inorganic and organic nanomaterials which have been used for to address the prominent challenges in neuroscience.
3.1 Inorganic nanomaterials
The following inorganic nanomaterials will be described in this section: metallic nanoparticles, silica nanoparticles, magnetic nanoparticles, quantum dots and upconversion nanoparticles.
3.2 Organic nanomaterials
The following organic nanomaterials will be discussed in this section: liposomes/micelles, dendrimers, polymeric NPs and carbon-based nanomaterials.
4 Conclusions
From both a fundamental and an applied science point-of-view, nanotechnology and nanoscience has greatly advanced in a relatively short period of time. Nanomedicine in particular has seen a steady progress in the last two decades, with tremendous efforts being placed in translating these advances to the field of neuroscience. A wide array of nanomaterials show promise for enhancing our understanding of the CNS, moreover offering therapeutic opportunities in CNS-related treatment. Many of the inorganic-based nanomaterials, such as metallic nanoparticles, magnetic nanoparticles and quantum dots, are being extensively employed as imaging agents. Other inorganic nanomaterials provide unique advantages, such as enhanced small molecule/biomolecule loading with silica nanoparticles and improved optical penetration with upconversion nanoparticles. This makes them quite versatile and adaptable to crucial neuroapplications such as CNS drug delivery and deep tissue imaging, respectively. In contrast, organic nanomaterials such as micelles, liposomes dendrimers and polymeric nanoparticles are generally biocompatible and biodegradable right from the start. In addition, carbon-based nanomaterials offer superior material properties, making this class of nanomaterials attractive candidates for neural interfaces. The availability of such a diverse nano-toolkit has changed the way scientists approach challenges in neuroscience.
Nevertheless, a growing need exists to create nano-based platforms that bear multiple functionalities on a single platform. This is mainly due to highly complex nature of the CNS, and furthermore it's sensitivity to slight damage and the consequent limited capability for autonomous repair. As a result, approaches that enable maximal effectiveness with minimal perturbation of the intact tissue would be ideal. In developing the next generation of nanoscale CNS platforms, critical design criteria consist of: attachment of multiple types of therapeutic agents, spatiotemporal control within the body, built-in modalities for long-term tracking, and capabilities to record and modulate neural activity. Integrating these features on a single nanoplatform holds remarkable potential for utilizing the nanomaterial toolkit for advanced neuroengineering applications.
Declarations
Acknowledgements
I would like to acknowledge Dr. Randy Giles (Director; Bell Labs) for his help in reviewing and revising this manuscript. I would also like to acknowledge Dr. Sanjay Patel (Program Leader; Bell Labs) and Dr. Marcus Weldon (President of Bell Labs and CTO at Nokia) for their guidance and support.
Competing interests
The author declares that he has no competing interests.
Open AccessThis article is distributed under the terms of the Creative Commons Attribution 4.0 International License (http://creativecommons.org/licenses/by/4.0/), which permits unrestricted use, distribution, and reproduction in any medium, provided you give appropriate credit to the original author(s) and the source, provide a link to the Creative Commons license, and indicate if changes were made.
Authors' Affiliations
(1)
Physiological Communications Research Group, Nokia Bell Labs, Murray Hill, USA