Biomolecular engineering for nanobio/bionanotechnology
Received: 17 February 2017
Accepted: 29 March 2017
Published: 24 April 2017
Abstract
Biomolecular engineering can be used to purposefully manipulate biomolecules, such as peptides, proteins, nucleic acids and lipids, within the framework of the relations among their structures, functions and properties, as well as their applicability to such areas as developing novel biomaterials, biosensing, bioimaging, and clinical diagnostics and therapeutics. Nanotechnology can also be used to design and tune the sizes, shapes, properties and functionality of nanomaterials. As such, there are considerable overlaps between nanotechnology and biomolecular engineering, in that both are concerned with the structure and behavior of materials on the nanometer scale or smaller. Therefore, in combination with nanotechnology, biomolecular engineering is expected to open up new fields of nanobio/bionanotechnology and to contribute to the development of novel nanobiomaterials, nanobiodevices and nanobiosystems. This review highlights recent studies using engineered biological molecules (e.g., oligonucleotides, peptides, proteins, enzymes, polysaccharides, lipids, biological cofactors and ligands) combined with functional nanomaterials in nanobio/bionanotechnology applications, including therapeutics, diagnostics, biosensing, bioanalysis and biocatalysts. Furthermore, this review focuses on five areas of recent advances in biomolecular engineering: (a) nucleic acid engineering, (b) gene engineering, (c) protein engineering, (d) chemical and enzymatic conjugation technologies, and (e) linker engineering. Precisely engineered nanobiomaterials, nanobiodevices and nanobiosystems are anticipated to emerge as next-generation platforms for bioelectronics, biosensors, biocatalysts, molecular imaging modalities, biological actuators, and biomedical applications.
Keywords
Engineered biological moleculesTherapyDiagnosisBiosensingBioanalysisBiocatalystNucleic acid engineeringGene engineeringProtein engineeringConjugation technologies
1 Introduction
Nanotechnology is the creation and utilization of materials, devices, and systems through controlling matter on the nanometer scale, and it is the key technology of the twenty-first century. The ability to exploit the structures, functions and processes of biological molecules, complexes and nanosystems to produce novel functional nanostructured biological materials has created the rapidly growing fields of nanobiotechnology and bionanotechnology, which are fusion research fields of nanotechnology and biotechnology [1]. Although these words are often used interchangeably, in this review, they are utilized in terminologically different ways, as follows.
Nanobiotechnology is used in relation to the ways in which nanotechnology is used to create materials, devices and systems for studying biological systems and developing new biological assay, diagnostic, therapeutic, information storage and computing systems, among others. These systems use nanotechnology to advance the goals of biological fields. Some nanobiotechnologies scale from the top down, such as from microfluidics to nanofluidic biochips (e.g., lab-on-a-chip for continuous-flow separation and the detection of such macromolecules as DNA and proteins [2], point-of-care biosensors for detecting biomarkers and clinical diagnosis [3–7], and solid-state nanopore sensors for DNA sequencing [8]). Other nanobiotechnologies scale from the bottom up for the fabrication of nanoscale hybrid materials, such as complexes consisting of nanoparticles (NPs) (e.g., magnetic NPs, AuNPs and AgNPs, silica NPs, quantum dots (QDs), polymeric micelles, liposomes, dendrimers, and fullerenes) and biological molecules, which are highly useful for biosensing, bioimaging, diagnostic and therapeutic applications in healthcare [9–15].
On the other hand, bionanotechnology refers to the ways in which biotechnology is used to improve existing or create new nanotechnologies through the study of how biological systems work and the applications of biological molecules and systems to nanotechnology. DNA and RNA nanotechnologies, the utilization of the base-pairing and molecular self-assembly properties of nucleic acids to create useful materials, such as DNA origami, DNA nanomachines, DNA scaffolds for electronics, photonics and protein arrays, and DNA and RNA aptamers, ribozymes and riboswitches, are important examples of bionanotechnology [16, 17]. Another important area of research involves taking advantage of the self-assembly properties of peptides, proteins and lipids to generate well-defined 3D structures, functional protein complexes, nanofilms and other nanostructures, such as micelles, reverse micelles and liposomes, which could be used as novel approaches for the large-scale production of programmable nanomaterials [18–20]. The application of carbohydrate polymers combined with nanotechnology in tissue engineering and medicine are also potential research fields for the development of novel biomaterials for biosensing, bioimaging, diagnostic and drug-delivery systems [21].
With either nanobiotechnology or bionanotechnology, biological molecules are indispensable building blocks for fabricating functional nanomaterials, nanodevices and nanosystems. However, from the viewpoint of applying biological materials to nanotechnology, biological materials found in nature always have sufficient functions and properties. Recent advances in biomolecular engineering, such as genetic engineering, DNA and RNA engineering, protein engineering, site-specific chemical and enzymatic conjugation technologies, self-assembly technology and massive high-throughput screening (HTS) methods, have enabled us to improve, stabilize, integrate and alter the functions and properties of biological materials. Thus, it is possible to create engineered biological materials with functions and properties that are optimized for various uses in the fields of bioelectronics, biosensors, biocatalysis, molecular imaging, biological actuators, drug delivery systems, biomaterials for tissue engineering and regenerative medicine.
In this review, recent studies applying engineered biological materials to nanobio/bionanotechnology are discussed, and various biomolecular engineering technologies are highlighted.
2 Application of engineered biological molecules to nanobio/bionanotechnology
Nanobio/bionanotechnology has created new opportunities for advances in diverse fields, including life science, medicine, electronics, engineering, and biotechnology. Nanoscale materials [e.g., NPs, nanowires, nanofibers, and nanotubes (NTs)] combined with various engineered biological molecules (e.g., proteins, enzymes, oligonucleotides, polysaccharides, lipids, biological cofactors and ligands) have been explored in many biological applications (e.g., therapy, diagnosis, bioimaging, biosensing, bioanalysis, biocatalysis, cell and organ chips, bioelectronic devices, and biological separation) (Fig.
1
). Their novel and unique properties and functions, such as high volume-to-surface ratio, improved solubility, quantum size, macroscopic quantum tunnel and multifunctionality, result in nanobiomaterials that are drastically different from their corresponding bulk materials.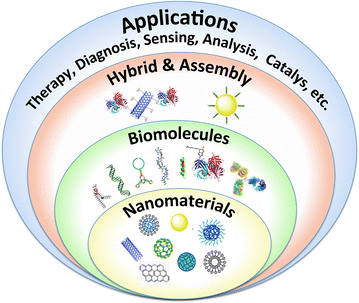 The current review is focused on advances in the development of nanobiomaterials for applications in therapy, diagnosis, biosensing, bioanalysis and biocatalysis because nanobiomaterials for cell and organ chips [22–25], bioelectronic devices [26, 27] and biological separation [28] have recently been reviewed in this journal.
2.1 Nanobiomaterials for therapy and diagnosis
Smart therapeutic and diagnostic or bioimaging NPs carrying cargo materials, such as drugs, DNAs, RNAs, proteins, and imaging reagents, have been widely developed [11, 13, 29–33]. To achieve intracellular NP and drug delivery, many strategies for overcoming various biological barriers are needed, including the following: (i) preventing removal from the circulation by cells of the reticuloendothelial system; (ii) targeting specific cells; (iii) internalization into cells; (iv) escaping from endosomes; (v) trafficking to specific organelles; and (vi) controlling the release of payloads (e.g., drugs, DNAs or RNAs).
2.2 Nanobiomaterials for biosensing and bioanalysis
Biosensing and bioanalysis based on new nanomaterials and nanotechnology in the areas of nanoelectronics, nanooptics, nanopatterns and nanofabrication have a wide range of promising applications in point-of-care diagnostics, earlier disease diagnosis, pathological testing, food testing, environmental monitoring, drug discovery, genomics and proteomics. The rapid development of nanotechnology has resulted in the successful synthesis and characterization of a variety of nanomaterials, making them ideal candidates for signal generation and transduction in sensing. In other words, the unique properties and functionalization of biomaterial-conjugated nanostructures make them very useful for signal amplification in assays, other biomolecular recognition events and fabricating functional nanostructured biointerfaces [64, 65]. Therefore, nanomaterials and nanofabrication technologies play significant roles in fabricating biosensors and biodevices (e.g., colorimetric, fluorescent, electrochemical, surface-enhanced Raman scattering, localized surface plasmon resonance, quartz crystal microbalance and magnetic resonance imaging (MRI)), including implantable devices [66] for the detection of a broad range of biomarkers with ultrahigh sensitivity and selectivity and rapid responses.
2.2.1 Nanomaterials for enhancing sensitivity of biosensing and bioanalysis
During the last decade, several promising nanomaterials (e.g., QDs, NPs, carbon nanotubes (CNTs) and graphene) with biomolecule-modified surfaces have been widely used in the fields of biosensing, bioanalysis and diagnostics [67–70]. For example, one of the first nanomaterials to have an impact on amperometric biosensors was CNTs, which have such advantages as a small size with a large surface area, an excellent electron transfer ability, and easy biomolecule immobilization. CNT-modified electrodes improved current densities and enhanced the reactivity of biomolecules, redox cofactors and redox enzymes. In addition, aligned CNT forests facilitated direct electron transfer with the redox centers of enzymes, resulting in improved overall performance of enzyme electrodes and enzyme-labeled immunosensors [71].
Several nanomaterials have shown great promise in imaging due to their intrinsic imaging characteristics, such as their brightness, sharp bandwidth and long-term stability (e.g., fluorescent agents, such as QDs [72], magnetic NPs in MRI [73] and colloidal AuNPs [74]). For imaging, nanomaterials can be targeted to specific disease sites within the body by conjugating the materials to biomarker-specific biomolecules. These biomaterial-based imaging agents can also provide information in addition to anatomical data, e.g., information relating to physiology and function, which enables more accurate and early disease diagnosis, such as the highly sensitive detection of early-stage cancer [75].
2.2.2 Nanofabrication technologies for biosensing and bioanalysis
Microarrays [
76
] and microfluidic [
77
,
78
] platforms coupled with biomolecule-conjugated nanomaterials (e.g., QDs, NPs, or CNTs conjugated with enzymes, antibodies, DNAs, or aptamers) have enabled the simultaneous multiplex detection of many disease biomarkers for cancer, infectious diseases, diabetes, cardiovascular diseases and Alzheimer's disease. For example, novel electrochemiluminescence (ECL) microwell array [
79
] and microfluidic [
80
] immunoassay devices equipped with capture-antibody-decorated single-walled carbon nanotube (SWCNT) forests on pyrolytic graphite chips have been developed. The [Ru(bpy)
3
]
2+
-doped silica NPs covered with thin hydrophilic polymer films prepared by the sequential layer-by-layer deposition of positively charged PDDA and negatively charged PAA were used as ECL labels in these systems for highly sensitive two-analyte detection. Antibodies to prostate specific antigen (PSA) and interleukin (IL)-6 were chemically conjugated to either SWCNTs or polymer-coated RuBPY-silica-Ab
2
NPs via amidization with 1-(3-dimethylaminopropyl)-3-ethylcarbodiimide hydrochloride (EDC) and
N
-hydroxysulfosuccinimide (NHSS). The microfluidic immunoassay device provided the simultaneous detection of the biomarker proteins PSA and IL-6 in serum, demonstrating high sensitivity and detection limits in the low femtogram per milliliter range (10
−21
M range) (Fig.
7
) [
80
]. These platforms explored the detection of ultra-low concentrations of target biomarkers and have realized rapid, ultrasensitive and cost-effective bioassays requiring minimum sample volumes, which will enable primary care physicians and patients to perform assays in their respective settings, using so-called point-of-care diagnostics. The detection of cancer biomarkers by immunoassays and sensors using these engineered nanomaterials could also enable the diagnosis of cancer at very early stages [
81
,
82
].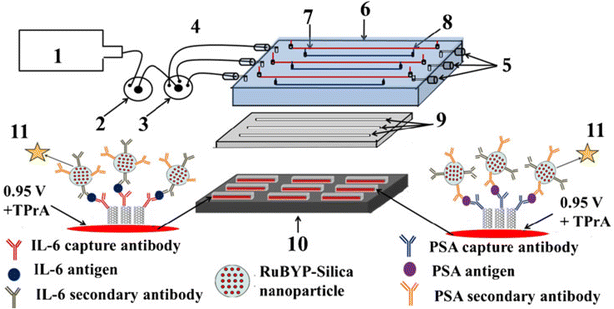 Fabrication must employ strategies to control chemistry to ensure not only that patterns and structures are generated at the desired location and within an appropriate time frame but also that undesired side reactions are prevented. Bionanofabrication, the use of biological materials and mechanisms for the construction of nanodevices for biosensing and bioanalysis, offers convergent approaches for building nanointerfaces between biomolecules and devices by either enzymatic assembly or self-assembly. For example, film-forming pH-sensitive chitosan directly assembles on electrodes under physiological conditions in response to electrode-imposed voltages (i.e., electrodeposition). Through recombinant technology, biomolecular engineering allows target proteins to be endowed with peptide tags [e.g., a Glutamine (Gln)-tag for transglutaminase-mediated crosslinking between the side chains of Gln and Lysine (Lys) residues] for assembly, which enables fabrication and controls bioconjugation chemistry through molecular recognition for the enzymatic generation of covalent bonds (Fig.
8
) [
83
]. These self-assembly and enzymatic assembly methods also provide mechanisms for construction over a hierarchy of length scales. Bionanofabrication will enable the effective interfacing of biomolecules with nanomaterials to create implantable devices.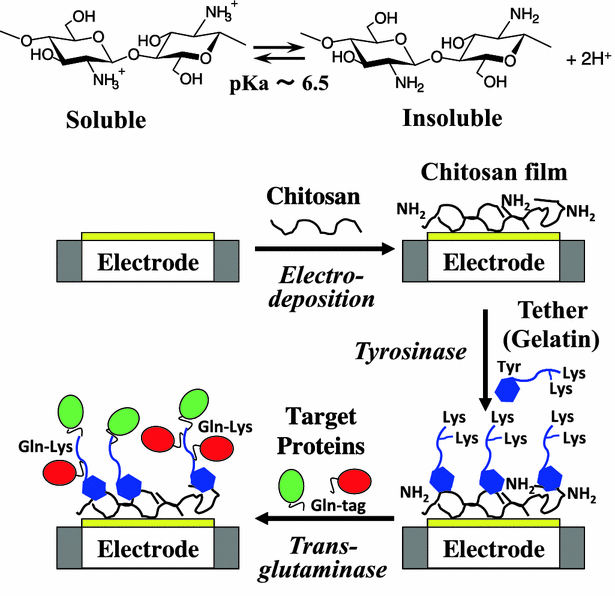 2.3 Nanobiomaterials for biocatalysis
The use of nanomaterials for enzyme immobilization and stabilization is highly effective not only in stabilizing the enzyme activity but also in developing other advantageous properties, including high enzyme loading and activity, an improved electron transfer rate, low mass transfer resistance, high resistance to proteolytic digestion and the easy separation and reuse of biocatalysts by magnetic force [84]. The immobilization or entrapment of enzymes on the surface or interior of nanocarriers has been accomplished using various nanomaterials, such as polymer NPs (e.g., polylactic acid, polystyrene, polyvinyl alcohol, and chitosan), magnetic and superparamagnetic NPs, polymer nanofibers (e.g., nylon, polyurethane, polycarbonate, polyvinyl alcohol, polylactic acid, polystyrene, and carbon), CNTs, GO nanosheets, porous silica NPs, sol–gel NPs and viral NPs [85–87].
2.3.1 Enzyme immobilization
There are considerable advantages of effectively immobilizing enzymes for modifying nanomaterial surface properties and grafting desirable functional groups onto their surface through chemical functionalization techniques. The surface chemistry of a functionalized nanomaterial can affect its dispersibility and interactions with enzymes, thus altering the catalytic activity of the immobilized enzyme in a significant manner. Toward this end, much effort has been exerted to develop strategies for immobilizing enzymes that remain functional and stable on nanomaterial surfaces; various methods including, physical and/or chemical attachment, entrapment, and crosslinking, have been employed [86, 88, 89]. In certain cases, a combination of two physical and chemical immobilization methods has been employed for stable immobilization. For example, the enzyme can first be immobilized by physical adsorption onto nanomaterials followed by crosslinking to avoid enzyme leaching. Both glutaraldehyde and carbodiimide chemistry, such as dicyclohexylcarbodiimide/N-hydroxysuccinimide (NHS) and EDC/NHS, have been commonly utilized for crosslinking. However, in some cases, enzymes dramatically lose their activities because many conventional enzyme immobilization approaches, which rely on the nonspecific absorption of enzymes to solid supports or the chemical coupling of reactive groups within enzymes, have inherent difficulties, such as protein denaturation, poor stability due to nonspecific absorption, variations in the spatial distances between enzymes and between the enzymes and the surface, decreases in conformational enzyme flexibility and the inability to control enzyme orientation.
To overcome these problems, many strategies for enzyme immobilization have been developed. One approach is known as 'single-enzyme nanoparticles (SENs),' in which an organic–inorganic hybrid polymer network less than a few nanometers in thickness is built up from the surface of an enzyme. The synthesis of SENs involves three reactions: first, amino groups on the enzyme surface react with acryloyl chloride to yield surface vinyl groups; then, free-radicals initiate vinyl polymerization from the enzyme surface using a vinyl monomer and pendant trimethoxy-silane groups; finally, orthogonal polymerization occurs via silanol condensation reactions to crosslink the attached polymer chains into a network (Fig.
9
). It was demonstrated that SENs can be immobilized in mesoporous silica; additionally, this method of immobilization was shown to provide a much more stable immobilized enzyme system than that of native enzymes immobilized by either adsorption or covalent bonding in the same material [
90
]. Another approach is to introduce molecular interfaces between a solid surface and enzymes. Several methods based on this approach have been reported, such as the surface modification of solid supports with hydrophilic synthetic polymers [
91
,
92
] and peptides [
93
] with specificities and affinities toward enzymes, and the fusion of enzymes with peptide tags [
94
] or anchor proteins [
95
,
96
].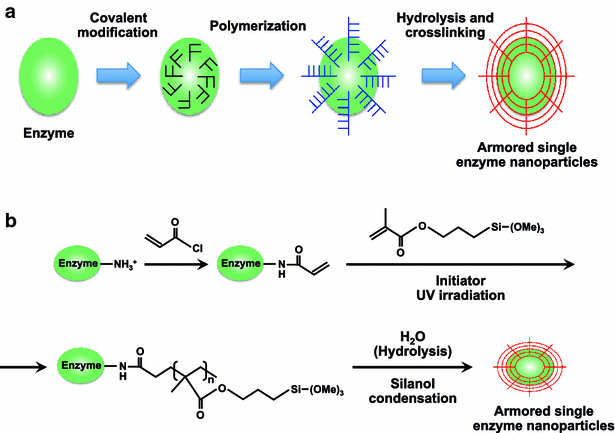 Peptides with an affinity for nanomaterials have been identified from a combinatorial peptide library, and these peptides are promising tools for bottom-up fabrication technology in the field of bionanotechnology. Through the use of these peptides, enzymes can be directly immobilized on a substrate surface with desired orientations and without the need for substrate surface modification or complicated conjugation processes. For example, an Au-binding peptide was applied to direct the self-assembly of organophosphorus hydrolase onto an AuNP-coated graphene chemosensor. This electrochemical biosensor system could detect pesticides with a fast response time, low detection limit, better operating stability and high sensitivity [97].
The amphiphilic protein HFBI (7.5 kDa), class II hydrophobin, that is produced by Trichoderma reesei adheres to solid surfaces and exhibits self-organization at water–solid interfaces. A fusion protein between HFBI and glucose oxidase (GOx-HFBI) with a 21-AA flexible linker (linker sequence: SGSVTSTSKTTATASKTSTST) was constructed. This fusion protein exhibited the highest levels of both protein adsorption and high GOx activity owing to the presence of the HFBI spacer and flexible linker, which forms a self-organized protein layer on solid surface and enables the GOx component in the fusion protein to be highly mobile, respectively [95].
The crystalline bacterial cell surface layer (S-layer) proteins of prokaryotic organisms constitute a unique self-assembly system that can be employed as a patterning element for various biological molecules, e.g., glycans, polysaccharides, nucleic acids, and lipids. One of the most excellent properties of S-layer proteins is their capability to self-assemble into monomolecular protein lattices on artificial surfaces (e.g., plastics, noble metals or silicon wafers) or on Langmuir lipid films or liposomes. A fusion protein between the S-layer protein SbpA from Bacillus sphaericus CCM 2177 and the enzyme laminarinase (LamA) from Pyrococcus furiosus fully retained the self-assembly capability of the S-layer moiety, and the catalytic domain of LamA was exposed at the outer surface of the formed protein lattice. The enzyme activity of the S-layer fusion protein monolayer on silicon wafers, glass slides and different types of polymer membranes was compared with that of only LamA immobilized with conventional techniques. LamA aligned within the S-layer fusion protein lattice catalyzed two-fold higher glucose release from the laminarin polysaccharide substrate compared with the randomly immobilized enzyme. Thus, S-layer proteins can be utilised as building blocks and templates for generating functional nanostructures at the meso- and macroscopic scales [98].
2.3.2 Multienzyme complex systems
In nature, the macromolecular organization of multienzyme complexes has important implications for the specificity, controllability, and throughput of multi-step biochemical reaction cascades. This nanoscale macromolecular organization has been shown to increase the local concentrations of enzymes and their substrates, to enhance intermediate channeling between consecutive enzymes and to prevent competition with other intracellular metabolites. The immobilization of an artificial multienzyme system on a nanomaterial to mimic natural multienzyme organization could lead to promising biocatalysts. However, the above-mentioned immobilization methods for one type of enzyme on nanomaterials cannot always be applied to multienzyme systems in a straightforward manner because it is very difficult to control the precise spatial placement and the molecular ratio of each component of a multienzyme system using these methods. Therefore, strategies have been developed for the fabrication of multienzyme reaction systems [99, 100], such as genetic fusion [101], encapsulation [102] in reverse micelles, liposomes, nano/mesoporous silica or porous polymersomes, scaffold-mediated co-localization [103], and scaffold-free, site-specific, chemical and enzymatic conjugation [104, 105].
In many organisms, complex enzyme architectures are assembled either by simple genetic fusion or enzyme clustering, as in the case of metabolons, or by cooperative and spatial organization using biomolecular scaffolds, and these enzyme structures enhance the overall biological pathway performance (Fig.
10
) [
103
,
106
,
107
]. In metabolons, such as nonribosomal peptide synthase, polyketide synthase, fatty acid synthase and acetyl-CoA carboxylase, reaction intermediates are covalently attached to functional domains or subunits and transferred between domains or subunits. Alternatively, substrate channeling in such multienzyme complexes as metabolons, including by glycolysis, the Calvin and Krebs cycles, tryptophan synthase, carbamoyl phosphate synthetase, and dhurrin synthesis, is utilized to prevent the loss of low-abundance intermediates, to protect unstable intermediates from interacting with solvents and to increase the effective concentration of reactants. Additionally, scaffold proteins are involved in many enzymatic cascades in signaling pathways (e.g., the MAPK scaffold in the MAPK phosphorylation cascade pathway) and metabolic processes (e.g., cellulosomes from
Clostridium thermocellum
). From a practical point of view, there are several obstacles for the genetic fusion of over three enzymes to construct multienzyme complexes. First, large recombinant fusion proteins are easily misfolded and subsequently are either proteolyzed or form inactive inclusion bodies in
E. coli
. Furthermore, the optimum refolding conditions of each enzyme motif in fusion proteins are not always identical. Last, rational design methods for peptide linkers between enzymes that enable control or linker spatial arrangement and orientation have not yet been developed [
106
]. Additionally, engineering the required interfacial interactions for efficient enzyme clustering is extremely challenging. Therefore, flexible post-translational methods using enzymatic site-specific protein–protein conjugation and synthetic scaffolds by employing orthogonal interaction domains for assembly have been particularly attractive because of the modular nature of biomolecular design [
103
].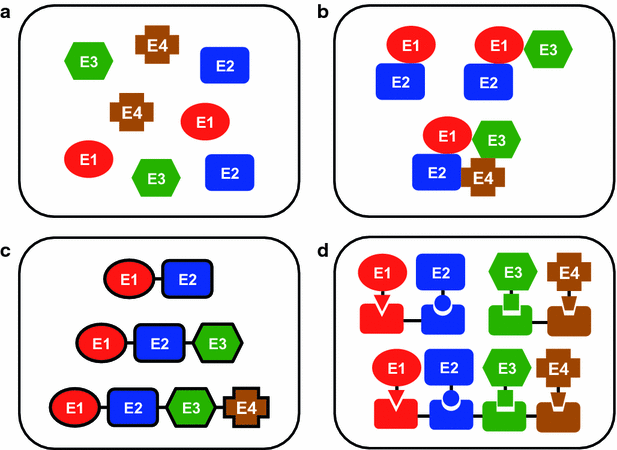 2.3.2.1 Post-translational enzymatic modification-based multienzyme complexes
Many proteins are subjected to post-translational enzymatic modifications in nature. The natural post-translational processing of proteins is generally efficient and site-specific under physiological conditions. Therefore, in vitro and in vivo enzymatic protein modifications have been developed for site-specific protein–protein conjugation. The applications of enzymatic modifications are limited to recombinant proteins harboring additional protein/peptide tags. However, protein assembly using enzymatic modifications (e.g., inteins, sortase A, and transglutaminase) is a promising method because it is achieved simply by mixing proteins without special techniques [106].
Recently, we demonstrated a covalently fused multienzyme complex with a "branched structure" using microbial transglutaminase (MTGase) from
Streptomyces mobaraensis,
which catalyzes the formation of an ϵ-(γ-glutamyl) lysine isopeptide bond between the side chains of Gln and Lys residues. A cytochrome P450 enzyme from
Pseudomonas putida (
P450cam) requires two soluble redox proteins, putidaredoxin (PdX) and putidaredoxin reductase (PdR), to receive electrons from NADH for its catalytic cycle, in which PdX reduced by PdR with NADH activates P450cam. Therefore, it has been suggested that the complex formation of P450cam with PdX and PdR can enhance the electron transfer from PdR to PdX and from PdX to P450cam. This unique multienzyme complex with a branched structure that has never been obtained by genetic fusion showed a much higher activity than that of tandem linear fusion P450cam genetically fused with PdX and PdR (Fig.
11
a) [
108
]. This multienzyme complex with a branched structure was further applied to a reverse micelle system. When the solubility of substrate is quite low in an aqueous solution, the reverse micelle system is often adopted for simple, one-step enzymatic reactions because the substrate can be solubilized at a high concentration in an organic solvent, subsequently accelerating the reaction rate. In the case of a multienzyme system, especially systems including electron transfer processes, such as the P450cam system, the reverse micelle system is difficult to apply because each component is usually distributed into different micelles and because the incorporation of all components into the same aqueous pool of micelles is very difficult. Unlike the natural P450cam system, all components of the branched P450cam system were incorporated into the same aqueous pool of micelles at a 1:1:1 ratio (Fig.
11
b) and enabled both extremely high local protein concentrations and efficient electron transfer to P450cam, resulting in a reaction activity higher than that of a reverse micelle system composed of an equimolar mixture of PdR, PdX and P450cam (Fig.
11
c) [
109
].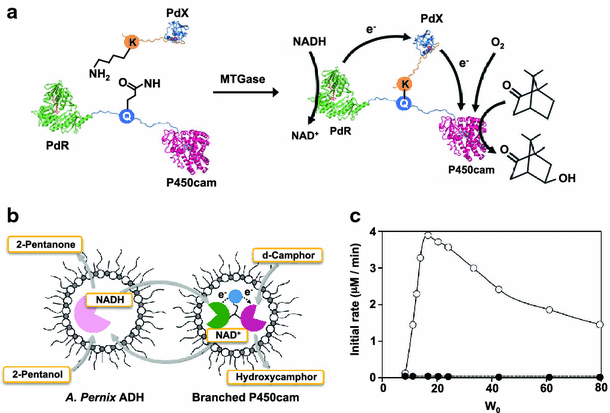 2.3.2.2 Scaffold protein-based multienzyme complexes
Scaffold proteins enable the precise spatial placement of the components of a multienzymatic reaction cascade at the nanometer scale. Scaffolds are involved in many enzymatic reaction cascades in signaling pathways and metabolic processes [110], and they can provide advantages over reactions catalyzed by freely diffusing enzymes by segregating reactions, increasing throughput and providing modularity for the construction of novel reaction networks. Recently, various multienzyme systems have been developed using natural scaffold proteins [111] and synthetic scaffolds [112] composed of elements of natural scaffold proteins, such as cellulosomes [113] and signal transduction scaffolds [114].
Proliferating cell nuclear antigen (PCNA) is a DNA-sliding clamp that forms a symmetrical ring-shaped structure encircling double-stranded DNA (dsDNA) and acts as a scaffold for DNA-related enzymes, such as DNA polymerase and helicase. The archaeon
Sulfolobus solfataricus
has three distinct PCNA genes with the three expressed PCNA proteins, PCNA1, PCNA2 and PCNA3, which form a heterotrimeric complex. These three PCNAs were fused to the three component proteins (i.e., PdR, PdX, and P450cam) composing the
P. putida
P450 system (Fig.
12
a). The resulting fusion proteins, PCNA1-PdR, PCNA2-PdX and PCNA3-P450cam, completely retained the functions of the component proteins, including the heterotrimerization of the PCNAs, the catalytic activities of PdR and P450cam, and the electron transfer function of PdX. The three fusion proteins immediately formed a heterotrimeric complex in vitro by mixing. Compared to an equimolar mixture of PdR, PdX and P450cam, the complex showed a 52-fold enhancement in the monooxygenase activity of P450cam because of efficient electron transfer within the complex from PdR to PdX and from PdX to P450cam [
111
]. This system based on the PCNA scaffold was further extended to a phosphite-driven self-sufficient P450cam system in vitro by incorporating phosphite dehydrogenase (PTDH) for cofactor NADH regeneration (Fig.
12
b) [
115
]. The
K
m value of PTDH-incorporated PUPPET (PTDH-PUPPET) for NAD
+
(51.0 ± 2.7 μM) in the presence of
d
-camphor and phosphite was slightly smaller than that of an equimolar mixture of PUPPET and PTDH (69.7 ± 4.8 μM). This result indicates that the oxidation of NADH by the PdR domain in PTDH-PUPPET might increase the effective local concentration of NAD
+
around the PTDH domain and that this proximity effect on cofactor channeling could potentially be improved by optimizing the arrangement of PTDH and PdR on the PCNA scaffold.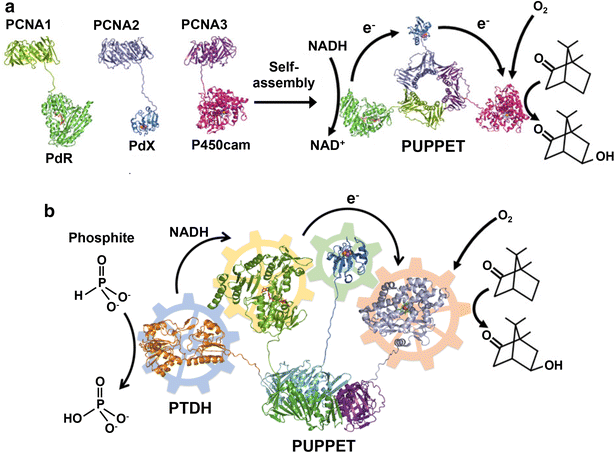 Designer cellulosomes containing four different enzymes (two cellulases and two xylanases) from Thermobifida fusca have been reported, where four dockerin-fused cellulolytic enzymes were incorporated into specific locations on an artificial, chimeric scaffold containing four cohesins corresponding to each dockerin. As expected, compared to their free enzyme mixture system without the chimeric scaffolding, the resulting multienzyme complexes exhibited enhanced activity (~2.4-fold) on wheat straw as a complex cellulosic substrate [116].
Recently, Deuber et al. demonstrated in vivo multienzyme complex formation in E. coli cells via synthetic protein scaffold expression. Protein scaffolds with various arrangements of fusion domains were built from the interaction domains of signaling proteins, the mouse SH3 and PDZ domains and the rat GTPase protein-binding domain (GBD). The three enzymes acetoacetyl-CoA thiolase, hydroxymethylglutaryl-CoA synthase and hydroxymethylglutaryl-CoA reductase, which catalyze a cascade reaction from acetyl-CoA to mevalonate, were genetically tagged with their cognate peptidyl ligands. These protein scaffolds and enzymes with peptidyl ligands were co-expressed in E. coli cells. A significant 77-fold increase in mevalonate production was achieved by the expression of the optimized scaffold: (GBD)1-(SH3)2-(PDZ)2 [114].
2.3.2.3 Oligonucleotide scaffold-based multienzyme complexes
DNA has numerous attractive features as a scaffold for multienzyme complexes. Its properties, such as high rigidity, programmability, complexity and assembly through complementary hybridization, allow DNA to form excellent scaffolds with linear, two-dimensional (2D) and 3D structures (e.g., simple dsDNA helices, Holliday junctions, DNA tiles, and DNA origami) for arranging multiple enzymes with controlled spacing in linear, 2D or 3D geometric patterns and for constructing interactive multienzyme complexes and networks [117–120]. DNA–protein conjugates are necessary to achieve DNA-directed protein assembly for the fabrication of multienzyme complexes on DNA scaffolds. However, this requirement makes it difficult to utilize this assembly method in vivo. Currently, there are several methodologies for conjugating proteins with DNA [117]. Proteins have been assembled onto DNA scaffolds through intervening adapter molecules, such as biotin–streptavidin, Ni–NTA-hexahistidine, antibodies-haptens and aptamers. Alternatively, direct covalent conjugation with DNA can be achieved by modifying cysteine (Cys) or Lys residues via disulfide or maleimide coupling, as well as by bioorthogonal chemistry, such as expressed protein ligation, Staudinger ligation and Huisgen cycloaddition.
By utilizing DNA nanostructures as assembly scaffolds, it has become feasible to organize the DNA-directed assembly of artificial multienzyme complexes. DNA-mediated assembly was employed to control the activity of a multidomain enzyme. Cytochrome P450 BM3 (P450 BM3) is composed of two domains, a flavin adenine dinucleotide and flavin mononucleotide-containing reductase domain (BMR) and a heme-containing monooxygenase domain (BMP). P450 BM3 shows monooxygenase activity by transferring electrons to BMP from NADPH through BMR. Both subdomains were genetically fused to the HaloTag protein, a self-labeling enzyme, enabling bioconjugation with chloroalkane-modified DNAs and subsequently reconstituting BM3 activity by DNA-mediated assembly. The arrangement of the two domains on a DNA scaffold can control the distance between them. The distance-dependent activity of multidomain P450 BM3 complexes was investigated by varying the length of spacing scaffolds between the BMR and BMP domains. The resulting changes in distance between the redox centers of the two domains regulated the efficiency of electron transfer and thus the enzymatic activity of the reconstituted P450 BM3 [121].
2D DNA nanostructures provide an even greater opportunity to organize multienzyme systems into more complicated geometric patterns. Thiolated nucleic acids were covalently linked to glucose oxidase (GOx) and horseradish peroxidase (HRP) by using N-[(1-maleimidocapropyloxy)sulphosuccinimide ester] as a bifunctional crosslinker. The GOx/HRP enzyme cascade was organized on 2D hexagonal DNA strips via self-assembly. The distance between two enzymes was controlled by varying the positions of two free DNA tethers on the hexagonal DNA strips. The complementary DNA-conjugated enzymes organized on the two-hexagon strips (shorter distances) showed 1.2-fold higher activity than the four-hexagon strips. With shorter distances, intermediate (H2O2) diffusion was more efficient, which therefore resulted in increased cascade reaction efficiency. However, the enzyme cascade was not activated in the absence of the DNA scaffolds or in the presence of foreign DNA [122]. These observations indicate that spatial arrangement at the nanometer scale using a 2D nanostructure comprising a rigid DNA duplex could control the flux of an intermediate from a primary enzyme to a secondary enzyme and that the flux control dominated the multienzyme cascade reaction rate.
More accurate distance control of the GOx/HRP enzyme cascade was realized using DNA origami tiles as a scaffold. The distance between enzymes was systematically varied from 10–65 nm, and the corresponding activities were evaluated. The study revealed the existence of two different distance-dependent kinetic processes associated with the assembled enzyme pairs. Strongly enhanced activity was observed when the enzymes were closely spaced, while the activity decreased drastically for enzymes as little as 20 nm apart. Increasing the spacing further showed much weaker distance dependence (Fig.
13
a–c). This study revealed that intermediate transfer between enzymes might occur at the connected hydration shells for closely spaced enzymes. This mechanism was verified by constructing different sizes of noncatalytic protein bridges (β-galactosidase (β-Gal) and NeutrAvidin (NTV)) between GOx and HRP to facilitate intermediate transfer across protein surfaces. The bridging protein changed the Brownian diffusion, resulting in the restricted diffusion of H
2
O
2
along the hydration layer of the contacted protein surfaces and enhancing the enzyme cascade reaction activity (Fig.
13
d, e) [
123
].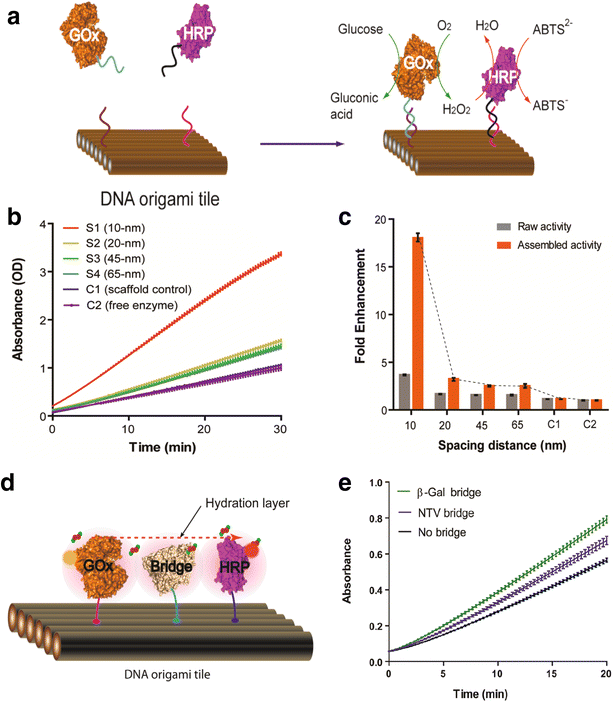 An enzyme cascade nanoreactor was constructed by coupling GOx and HRP using both a planar rectangular orientation and short DNA origami NTs. Biotinylated GOx and HRP were positioned on the streptavidin-decorated planar rectangular DNA sheet via the biotin–avidin interaction with a specific interenzyme distance (i.e., the distance between GOx and HRP) of 15 nm. This DNA sheet equipped with GOx and HRP was then rolled into a confined NT, resulting in the encapsulation of the enzymes in a nanoreactor. Remarkably, the enzymatic coupling efficiency of this enzyme cascade within short DNA NTs was significantly higher than that on the planar rectangular DNA sheet alone. When both enzymes were confined within the DNA NTs, H2O2 could not diffuse out of the diffusion layer, which was much thicker than the diameter of the DNA NTs (20 nm), resulting in a high coupling of the reaction intermediate H2O2 between the enzymes [124].
A similar modular type of enzyme cascade nanoreactor was constructed using 3D DNA origami building blocks. Each of the DNA origami units contained three biotin-conjugated strands protruding from the inner surface of the tubular structure. The deglycosylated avidin and NTV were immobilized on the inner surface of the units via the biotin–avidin interaction to facilitate the further binding of biotinylated enzymes. Biotinylated GOx and HRP were anchored inside the origami compartment with the help of NTV. The resulting GOx- and HRP-immobilized tubular DNA origami structures were connected together by hybridizing 32 short (3–6 bases) sequences. The GOx/HRP cascade reaction of the assembled dimer nanoreactor showed significantly higher activity than that without a DNA scaffold [125].
Engineered RNA modules were assembled into discrete (0D), one-dimensional (1D) and 2D scaffolds with distinct protein-docking sites (duplexes with aptamer sites) and used to control the spatial organization of a hydrogen-producing pathway in bacteria. The 0D, 1D and 2D RNA scaffolds were assembled in vivo through the incorporation of two orthogonal aptamers for capturing the target phage-coat proteins MS2 and PP7. Cells expressing the designed RNA scaffold modules and both ferredoxin/MS2 (FM) and [FeFe]-hydrogenase/PP7 (HP) fusion proteins showed remarkable increases in hydrogen production. Namely, 4-, 11- and 48-fold enhancements in hydrogen production compared with that of control cells were observed from the RNA-templated hydrogenase and ferredoxin cascade reactions in cells expressing 0D, 1D and 2D RNA scaffolds, respectively. This study suggests that a metabolic engineering approach can be used to introduce structural nucleic acid nanostructures inside cells for the organization of multienzyme reaction pathways [126].
3 Biomolecular engineering for nanobio/bionanotechnology
Biomolecular engineering addresses the manipulation of many biomolecules, such as nucleic acids, peptides, proteins, carbohydrates, and lipids. These molecules are the basic building blocks of biological systems, and there are many new advantages available to nanotechnology by manipulating their structures, functions and properties. Since every biomolecule is different, there are a number of technologies used to manipulate each one individually.
Biomolecules have various outstanding functions, such as molecular recognition, molecular binding, self-assembly, catalysis, molecular transport, signal transduction, energy transfer, electron transfer, and luminescence. These functions of biomolecules, especially nucleic acids and proteins, can be manipulated by nucleic acid (DNA/RNA) engineering, gene engineering, protein engineering, chemical and enzymatic conjugation technologies and linker engineering. Subsequently, engineered biomolecules can be applied to various fields, such as therapy, diagnosis, biosensing, bioanalysis, bioimaging, and biocatalysis (Fig.
14
).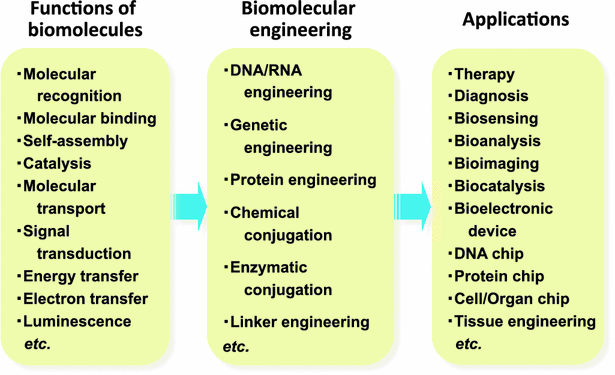 4 Conclusion
This review highlighted some of the recent developments in studies related to nanobio/bionanotechnology, including the applications of engineered biological molecules combined with functional nanomaterials in therapy, diagnosis, biosensing, bioanalysis and biocatalysis. Furthermore, this review focused on recent advances in biomolecular engineering for nanobio/bionanotechnology, such as nucleic acid engineering, gene engineering, protein engineering, chemical and enzymatic conjugation technologies, and linker engineering.
Based on creative chemical and biological technologies, manipulation protocols for biomolecules, especially nucleic acids, peptides, enzymes and proteins, were described. We also summarized the main strategies adopted in nucleic acid engineering, gene engineering, protein engineering, chemical and enzymatic conjugation technologies and linker engineering. Nucleic acid engineering based on the base-pairing and self-assembly characteristics of nucleic acids was highlighted as a key technology for DNA/RNA nanotechnologies, such as DNA/RNA origami, aptamers, ribozymes. Gene engineering includes direct manipulation technologies for genes, such as gene mutagenesis, DNA sequence amplification, DNA shuffling and gene fusion, which are powerful tools for generating enzymes, proteins, entire metabolic pathways, or even entire genomes with desired or improved properties. Two general strategies for protein engineering, i.e., rational protein design and directed evolution (i.e., high-throughput library screening- or selection-based approaches) were discussed. Conjugation technologies to site-specifically modify proteins with diverse natural and unnatural functionalities have been developed in the last two decades. These technologies range from classical chemical bioconjugation technologies, bioorthogonal chemical conjugations, protein chemical ligations and enzymatic conjugations, which were overviewed. Linker engineering for controlling the distance, orientation and interaction between functional components crosslinked in conjugates is also an important technology. The design and optimization strategies of chemical and biological linkers, such as oligonucleotides and polypeptides, were overviewed.
A variety of strategies are now available for designing and fabricating novel nanobiomaterials with highly ordered dimension and complexity based on biomolecular self-assembly characteristics governed by molecular interactions among nucleotides, peptides, proteins, lipids and small ligands, each of which focuses on design simplicity, high structural and functional control, or high fabrication accuracy [16–20, 106, 127, 132, 360–365]. Fundamentally, these properties are not mutually exclusive, and the relative weaknesses of each approach will be solved in the near future. Given the rapid recent progress in the biomolecular engineering and nanotechnology fields, the design of completely novel biomaterial-based molecular devices and systems with functions tailored for specific applications seems to be much easier and more feasible than before.
Declarations
Competing interests
The author declares that he has no competing interests.
Funding
This research was supported partly by Grants-in-Aid for Scientific Research (A) from Japan Society for the Promotion of Science (JSPS) (15H02319), the Center for NanoBio Integration (CNBI) in The University of Tokyo, and Translational System Biology and Medicine Initiative from The Ministry of Education, Culture, Sports, Science and Technology (MEXT).
Publisher's Note
Springer Nature remains neutral with regard to jurisdictional claims in published maps and institutional affiliations.
Open AccessThis article is distributed under the terms of the Creative Commons Attribution 4.0 International License (http://creativecommons.org/licenses/by/4.0/), which permits unrestricted use, distribution, and reproduction in any medium, provided you give appropriate credit to the original author(s) and the source, provide a link to the Creative Commons license, and indicate if changes were made.
Authors' Affiliations
(1)
Department of Chemistry and Biotechnology, Graduate School of Engineering, The University of Tokyo, Tokyo, Japan
Copyright
© Korea Nano Technology Research Society 2017